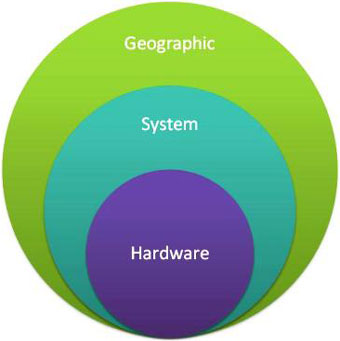 If you have a critical system that needs to be accessible at all times, you have a number of options at your disposal. When it comes to system "resiliency", you need to consider both your budget and the amount of protection that you require.
For a chain of restaurants, an hour of web site downtime might not be a big deal. But an hour of downtime on their payment processing system could end up costing several thousands of dollars in lost transactions.
For this reason, I've laid out the most common forms of system resiliency that you might consider for your IT systems.
Hardware Resiliency
With hardware resiliency, your internal systems are designed to withstand certain types of mechanical problems without shutting down.
Some common examples would include storing data across multiple RAID disks, so that data could still be recovered if a disk were ever to fail. Hot-swappable drives also allow you to change or upgrade disks without shutting down the system.
In case of a power outage, you may want to consider an Uninterruptable Power Supply (UPS). This will allow your system to continue running for a few minutes until the power comes back on. A UPS will also help prevent lengthy system restarts in the event of quick power flickers.
Another common tactic employed for hardware resiliency is to have redundant network connections in place. This way, you can remain online if one of the connections is severed.
System Resiliency
System resiliency is similar to hardware resiliency, but it applies to the entire server.
The most common form of system resiliency involves having a duplicate server on-site that can be instantly switched over if the primary machine goes down. A few years ago, this would've been difficult and expensive to implement. But now, companies can purchase can purchase on-site appliances that automate much of this process.
Virtualization technology has also helped make systems more resilient by allowing "virtual servers" to run across several physical devices. If one of the devices should fail, the system will continue to operate. This is similar to how RAID disks can tolerate a single disk crash.
In many cases, "virtual servers" can also be moved from one physical box to another without requiring a system shutdown.
Another less-discussed form of system resiliency involves having manual, paper-based versions of your in-house systems. If your credit card server goes down, you can still take orders using the old fashioned "chak-a-chink" roller machines.
Geographic Resiliency
Geographic resiliency is designed to protect you against a worst-case "Nuclear Fallout" scenario. Ideally, critical applications should continue to run despite any catastrophic events that might occur.
The idea of
geographic resiliency
was one of the primary reasons for the creation of the
Internet.
In a geographically resilient scenario, servers would be duplicated continuously across 2 or more locations… separated by very large distances. If your main office in Chicago should be taken down by a natural disaster, your spare datacenter in Tokyo could ensure that your customers are not affected.
This is the best – and most expensive – server resiliency that you can implement.
A Cost-Effective Alternative
Implementing system resiliency is expensive if 500 companies need to individually protect their IT infrastructure. But it becomes much more economical if only a single company hosts and protects all of the servers for the other 499. (If everyone else pitches in)
When this happens, there is a consolidation of costs, and everyone benefits from an economy of scale.
This is the idea behind
Software-as-a-Service
.
Many companies now use Gmail, because it's cheaper than hosting their own email server… and they know that Google spends a lot of money on protecting their systems from downtime. This is also the same reason that most businesses outsource their web hosting instead of doing it in-house.
By outsourcing critical business applications to secure, reputable third-party providers, you can ensure maximum system uptime while reducing overall IT management costs.
Guest Post By:
Storagepipe offers
online backup
for businesses, and a host of other resiliency solutions for servers.