Disabling "Application has Encountered a problem and needs to shutdown" message.
Sooner or later all the Xp users will encounter an error report, we have to choose whether to send an error report or not, to let know the application am using to Microsoft.  Well, i don know about you geeks out there but sure its an annoying and a frustrating thing for me, so if you geeks find it frustrating heres a way to disable it.
First -> Right-Click on My Computer,
Navigate to – Advanced Tab, and choose the "Disable error reporting" option.
thats it ! ! .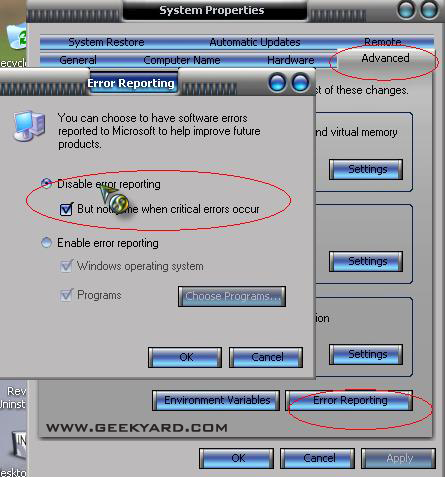 Well there is also an alternative way to do this ->navigate to the services console in Administrative tools,see if you can  find the Error Reporting Service, find the properties and disable it. Either way, those annoying dialogs are gone. .