In Facebook Stop video playing automatically to save Internet Bandwidth. Reduce data usage by selectively seeing only necessary videos in Facebook.
Facebook by default enabled the Auto-play videos feature.All videos begin automatically when you scroll. And this feature irritates most of the users. So, lets see how to disable this Facebook video Auto-play in Desktop, Android and iOS.
Before we being I would like to share Top 5 Popular Facebook related articles published in Geekyard.
Videos use more data than other stories on Facebook, so choose wisely how to consume your internet data usage.
Stop Video Playing Automatically on your computer:
Let's see how to now disable annoying video autoplay in Desktop browsers.
Login to Facebook
From the top right of Facebook, click and select Settings.
Click Videos in the Left Menu.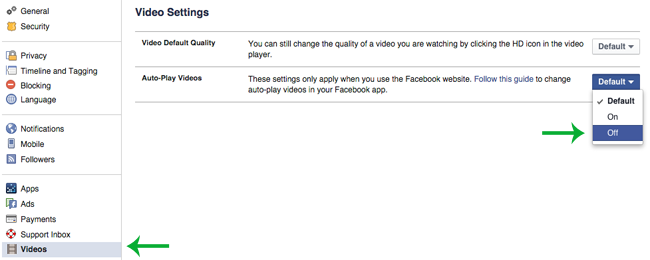 Click the dropdown menu next to Auto-play Videos and select Off.
Disabling Video Autoplay in Facebook App in iOS
You need to follow the below steps to Stop Video Playing in iPhone or iPad which runs on iOS operating system.
Here's what you have to do now in order to disable Auto-Play :
Open Facebook app
Tap on More (Three bars on the bottom right corner)
Select Settings from the settings section on the bottom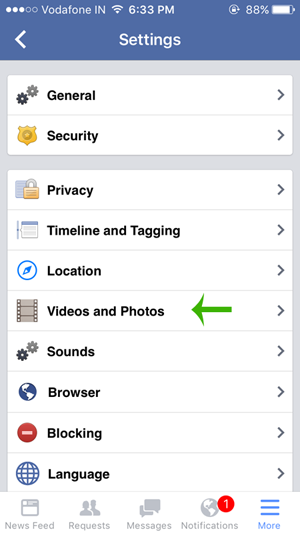 Select Auto-Play
Select Videos and Photos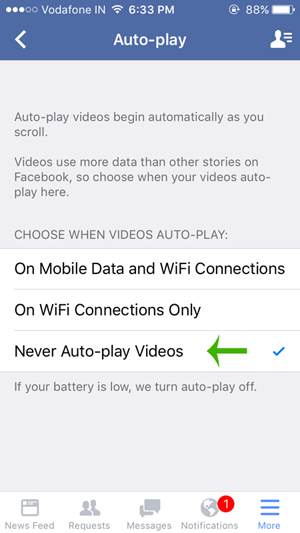 Turn off smart Auto-Play, then you can set your own auto-play setting
Stop Facebook Videos Autoplay in Android
If you are Android user then follow the below steps to disable automatic video play when your scroll down the Facebook App.
Open the Facebook app
Tap your phone's menu button
Tap Settings
Scroll down and tap Video Auto-play
Turn off smart Auto-Play, then you can set your own auto-play setting
Hope this article will be useful for you to put full stop for the annoying default Facebook feature which kills the Internet bandwidth.
If you prefer to download Facebook videos to iPhone and iPad, you may take a look at how to save Facebook videos to iPhone. We will give you three solutions to save videos from Facebook to iPad or iPhone step by step.