Does someone hacked your Facebook account? Can't access your account when you enter email ID and password?
Don't worry here is a easy way to get back your hacked
Facebook profile
.Bad guys out there are using 
so many tricks
to hack facebook users account.My best advice would be
read many security forums
and
articles
this will help you to
improve system security
and it also helps to avoid falling prey to those bad guys.
Steps to Get back your Hacked Facebook Account:
2. Fill up the contact page.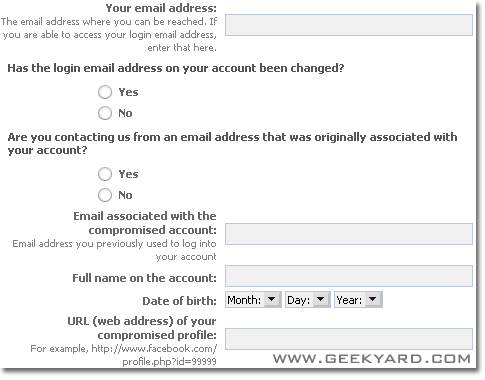 3. Correctly fill all the details asked
Your email address
Full name on the account (Enter the Full Name as you have given in Your Face Book Account)
Date of birth.
URL (web address) of your profile page.
4. Click Submit button.
That's it. They will mail you and guide you to reset your Password 🙂
How to prevent your account getting hacked in Future?
1.
Use a powerful
Antivirus, Anti Spyware
and
Anti Rookit
Aplications.
3. Change all your important mail accounts and social networking site passwords at least two months once.
4.
Read
Security articles
and know how people trick to hack your account.This will help you to be
extra careful
while you are online. 😉
Stay Protected 🙂 Stay connected safely with your friends and family members 🙂