Yahoo mail, one of the most popular email service provider finally supports HTTPS. Google and Microsoft already offers full session HTTPS support by default for their Gmail and Hotmail services. We need to manually enable this new HTTPS security feature in Yahoo mail.
What is HTTPS?
Hypertext Transfer Protocol Secure (HTTPS) is a widely used communications protocol for secure communication over a computer network, with especially wide deployment on the Internet. Technically, it is not a protocol in itself; rather, it is the result of simply layering the Hypertext Transfer Protocol (HTTP) on top of the SSL/TLS protocol, thus adding the security capabilities of SSL/TLS to standard HTTP communications.
HTTPS provides authentication of the web site and associated web server that one is communicating with, which protects against Man-in-the-middle attacks. Read More…
How to Enable HTTPS in Yahoo Mail Account?
1. Sign into your Yahoo account.
2. Click on Settings icon which is located in top right corner. And from the drop down menu shown select "Mail Options".

3. Scroll down to the bottom of the page
4. In Advanced Settings select check box "Turn on SSL" a dialog will be shown refresh is required to change this setting, click Ok and further click on "Save" button.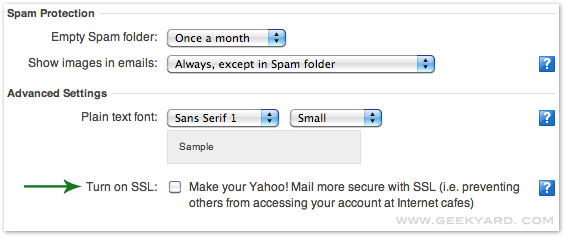 5. That's it!!! 🙂
Stay protected 😉