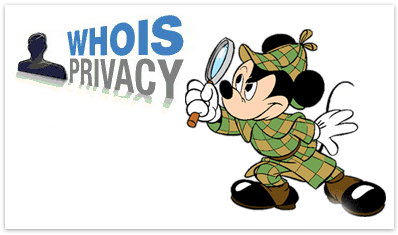 Domain name Whois lookup is a real thread to Webmasters. Day-to-day bloggers are increasing and so many domains are getting registered. So, most of the individual website owners prefer to hide website owner's identity. Therefore, if you select the Domain Privacy Protect option while registering website, the website owner's identity will not be available even if specific searches are done through whois or other domain lookup tools. This is a specific option available for website owners. This option is used by owners of personal websites and not by business websites. Business sites that are meant for commercial purposes must have their information put up to develop their trust in the customer.
Why is Domain Privacy So Important?
Domain name Whois Lookup gives all the details like address, phone number, personal email id etc. This will be a threat to a web masters, bloggers, especially if she is a female webmaster . So we have to enable to enable the domain privacy protection in your domain panel and this post will surely help you in setting up privacy.
How to Enable Domain Privacy?
For setting up Doamain Privacy , you need login to your domain panel. You will be getting domain panel where you have registered your domain like Squarebrothers, bigrock, hostgator, godaddy etc.
Login to your domain panel.(For Squarebrothers use http://dom.squarebrothers.com)
Enter your domain name and select "Domain registration service" and click continue as shown below,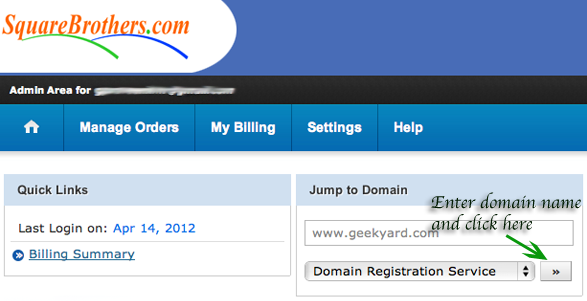 Click Privacy protection option.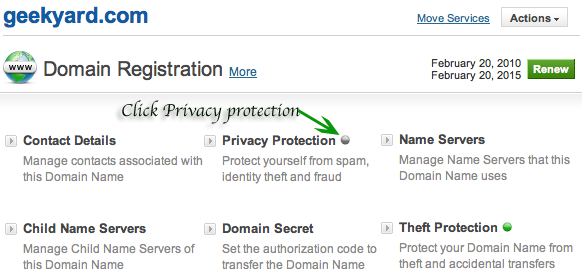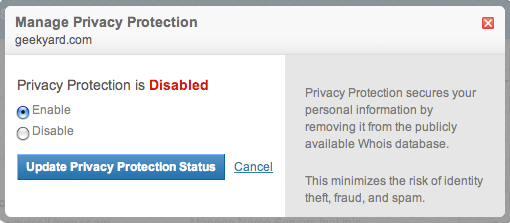 That's it by enabling this it secures your information by removing it from the publicly available Whois database. This minimizes the risk of identity theft, fraud, and spam. See the Geekyard Whois lookup result,