Let we discuss now about local disk open problem, usually we have to open any disk,all of us use double click to open, in some time we see Access denied or the open with windows appears… This is mainly occurs due to virus..Because there is some autorun.inf files(Checkout Remove AUTORUN.INF from infected computers) have been created on disk files to run when we using disk. So first download and install any free anti-virus to remove that disturbing Trojans….. anti-virus like avast, Avira, AVG are avail free of cost with free license…… if u want more security just use payable anti-virus like kaspersky……..
Let us see the solution…
It is one of the most easy and fantastic trick…..
Start –> Run –> gpedit.msc
In left pane select user configuration
Select user configuration –> administrative template –> system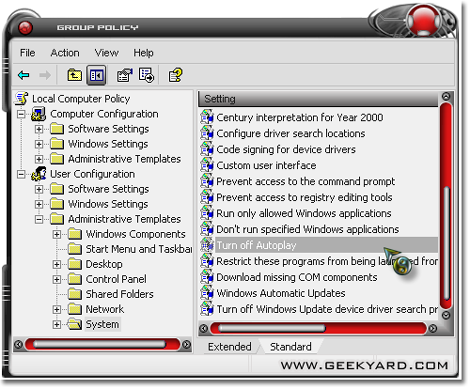 Now at right pane –> select Turn off Auto-play
Right click Turn off Auto-play –> Select properties
Change Not configured To Enabled
Next select –> Turn off auto-play on –> All Drives
Hit Apply and ok.
Now exit Group policy window and restart the system

I had this problem too, then I made a new topic here guys
There is an another way to solve
(only instead of C write E and F):
Go to command prompt and write this command
c:\> attrib -r -s -h autorun.inf
d:\> attrib -r -s -h autorun.inf
Restart the pc
And here's the best and easiest suggestion of what Manmeet wrote(it worked for me!):
1. Open Start –> Run and type regsvr32 /i shell32.dll
2. Click ok
3. You will see a message DllRegisterServer and DllInstall in shell32.dll succeeded
4. That  it
Feel free and PLEASE write how you solved this problem!