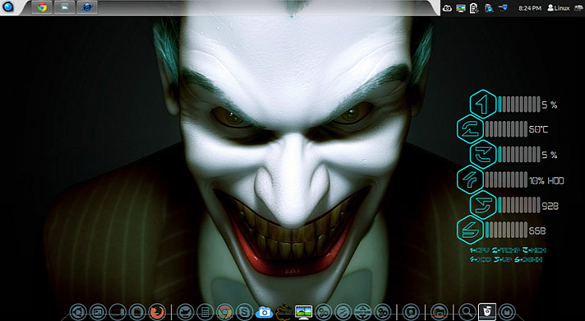 JessBuntu, a distribution based on Ubuntu 12.04 developed by Jesse. In this, Jesse has modified the Icons, Themes, Wallpapers and given a brand new look 😉 This look will be surely liked by Linux fans.
New apps have been added, such as the Live Wallpaper with custom settings, Screen Cloud and Storm Cloud.
About the Developer:
The following lines are taken from the developer's page(http://speedracke6.wix.com/jessere-spin#!about-me/c2414)
Hello, My Name is Jesse and I live in Australia and love Linux . I have be using Linux for over 4 years and only use Linux Now.I do not use Apple or M.S. I am just trying to show what is possible with Linux base operating system. I love the way i could Tweak everything in Linux based O.S.I am trying to encourage more people to give Linux a go or maybe you already using it and don't know it, Like Banking systems,Phones (Android) uses the Linux Kernel.I believe once a get the hang of it you will never go back to you're old O.S
Apps included in "JessBuntu":
JessBuntu comes with new Skype, Firefox, Gimp software and lot more app listed below,
Wallch,
Coverseen,
ClipGrab,
Geary Mail,
Qbittorrent,
Clementine,
Cheeseweb cam,
Format Junkie,
Open Shot with Blender,
SuperBoot,
Cairo with Custom settings,
Unbuntu Tweak.
Key Features of "JessBuntu Eye Candy O.S"
Eye Candy Os
Cinnamon
Live Wallpapers
Preloaded Apps & wallpapers
Custom O.S
Compiz Pre-Tweaked
Fast and stable
12.04.1 Lts
Download JessBuntu 12.04.1 from Sourceforge | Password If Asked ( 12 ) | Requirements: 32 Bit Only