Works For Ubuntu & All other Gnome Distros
Some of the linux distros provide us with these Home,My Computer, Trash icons on the desktop and some don't.  So, if you're distro doesn't provide these stuff and if you are looking to get the Home, Trash or the Computer icons on the desktop, it is very easy. Follow along (works for all Gnome-based distros)
Hit Alt + F2, type in gconf-editor in the dialog box that comes up and hit Enter.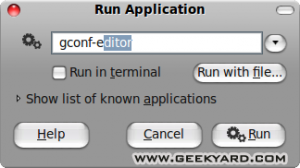 The Configuration Editor will open up.
Navigate to Apps –> Nautilus –> Desktop.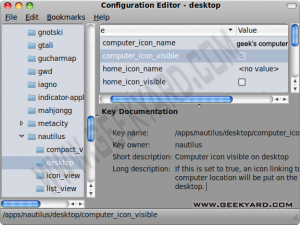 Towards the right side, you will see a set of options. Place a check against the icons you want to see displayed on the desktop. You can display the Computer, Home, Trash and Network icons from in here.
While you are there, you can also tinker with the names. If for example, you want to change the name from "Computer" to "Geekyard Computer", all you have to do is double-click on computer_icon_name, choose String as the type and then key in the name you want to give to it.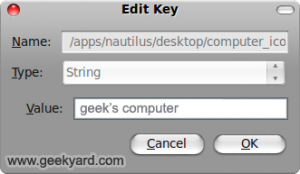 You can also uncheck volumes_visible option if you don't want the mounted drives to appear on the desktop. I personally loathed them, could never get in terms with where they appear (on top of each other at times) and how to customize their positions.
That's it! You can customize what to show up on your desktop easily. While you are there, you might look into other options with gconf-editor, it provides an explanation of every option that you select, so you know what you are about to do. In case something goes wrong you can always correct it via the editor or by using the gconftool2 command within the terminal.
Read This Article,
How To create a Transparent Terminal in Ubuntu/Kubuntu Desktop