It is very annoying that the numlock is not activated at startup in the login screen, especially when using a password that contains numbers.So how can i turn the Numlock on at kubuntu startup?.Its very easy just follow the below procedure.
Ubuntu uses a user interface (desktop environment) called Gnome. Gnome is focused onsimplicity and usability. Ubuntu includes a bunch of Gnome-native applications such as Rhythmbox (music player), Sound Juicer (CD player and ripper), Evolution (email client and calendar), and Gedit (Its my fav text editor).
Kubuntu uses the K Desktop Environment (also known as KDE). KDE is focused on including a lot of point-and-click configuration options immediately available to end users. Kubuntu includes a bunch of KDE-native applications such as AmaroK (music player), K3B (CD burning), Konqueror (web browser and file manager), and Kopete (instant messenger).
1. Open Kickoff Application Launcher –>Apllications –> System –>Terminal
2. In the Terminal execute the following commands,
sudo apt-get install numlockx
3. Hit Enter.
4. It will ask for Password.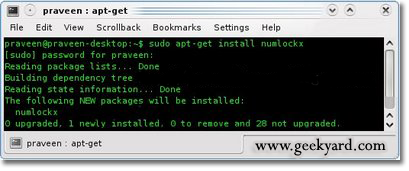 5. Type your Password.(Note:When you type your Password will be Invisible)
6.This will install the numlocx package.
7.Restart your computer.
8.Now you can see the Numlock will be turned on during Kubuntu Logon screen.
Top 10 Ubuntu Tips & Tricks
That's it your problem is fixed.
Personally I love Ubuntu Linux very much.I wish all readers who read this article to explain their friends to use Linux and Promote Open Source Software and their Importance.For how many days we are going to try out the same OLD windows? Try Linux, Solaris, Mac Os X and gain more knowledge on those things gradually…Windows survives because of Games only.They created a impression that its the user-friendly os… Mac is much more user friendly than Windows :).