Measure Hard disk performance in Ubuntu with Disk Utility and hdparm tools. Disk Management in Ubuntu has become easy with Palimpsest tool called Disk Utility.  Apart from disk partition management, it does SMART tests to know the health of hard disk.SMART test shows HDD bad sectors.In this article I will show you two easy methods of doing Hard disk speed test,
Method 1: (Using Disk Utility)
This is a GUI(Graphical User Interface) method.
1. Goto System -> Administration -> Disk Utility.
2. Select your hard disk at left pane.
3. Now click "Benchmark – Measure Drive Performance" button in right pane.
4. A new window with charts opens.You will find and two buttons. One is for "Start Read Only Benchmark" and another one is "Start Read/Write Benchmark". When you click on anyone button it starts benchmarking of hard disk.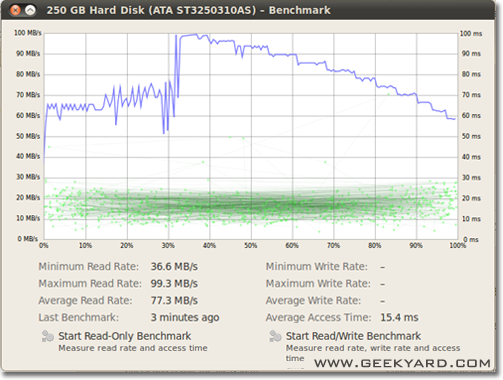 5. The Chart will give detailed information about Maximum read rate and write rate, Average read & write rates. 😉
Method 2: (Using Terminal)
Now lets see how to check Hard disk speed rate using CUI(Command User Interface). hdparm is a nice tool to run on command line and Palimpsest is for GUI people.
1. Goto Applications –> Accessories –> Terminal.
2. Type the following,
sudo hdparm -t /dev/sda
Note:
It will ask for password to carry out the testing process.
3. That's it.Results will be displayed in screen 🙂
6DBNZHCPCBYY