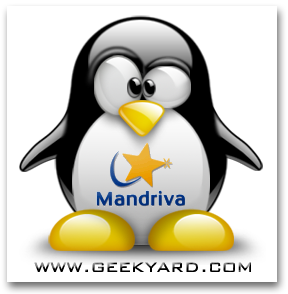 The
Spring version
of the
popular Mandriva Linux distribution
is now available for
download
on mirrors worldwide. Mandriva Linux is also more
easy-to-use
, more
user-friendly
and
more powerful
. It is ideal for the needs of all customers, from the
beginner
to the
SOHO user
.The final release comes in three editions:
One Edition
Free Edition and
Powerpack Edition.
Mandriva Linux 2010.1 is available for both 32-bit and 64-bit architectures, with GNOME and KDE4 LiveCDs.
Mandriva Linux 2010.1 "Spring"
offers hot features, such as
Guest account
, a new installation method and improved
Mandriva Directory Server
. It also comes with some bleeding-edge applications, like
Mozilla Firefox 3.6.6
or O
penOffice.org 3.2
. The popular
Opera
and
Chromium
web browsers
are available from the included
software repositories
.
Mandriva Linux 2010.1 GNOME Edition Screenshot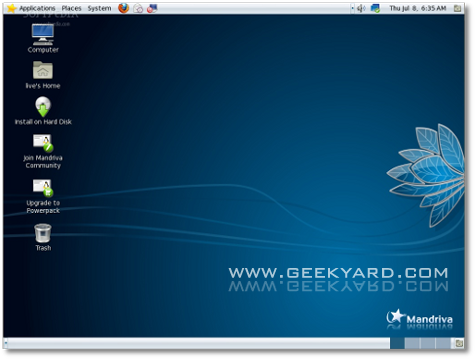 Mandriva Linux 2010.1 KDE Edition Screenshot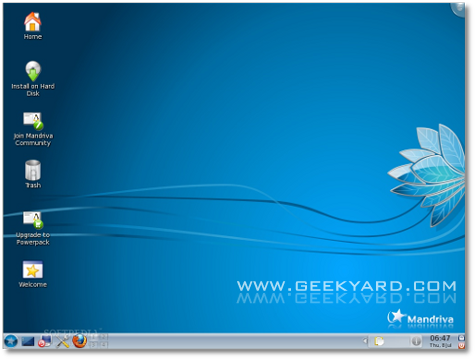 Some key features of "Mandriva Linux":
A computer running the Mandriva Linux operating system can be as easy to use as a computer which uses Windows or Mac OS — a fact which has been Confirmed by many IT publications. CNET (a popular technical online magazine) awarded Mandrivalinux Linux their "Editor's Choice" saying: "New users, especially those looking for a quick and easy alternative to Windows or the Mac OS, will be hard pressed to find a smoother, easier transition to the world of Linux."
For comparison, the Mandriva Linux PowerPack contains thousands high-quality applications including a complete Office Suite, plus installation support, for a cost of approximately 10 times less than the equivalent Microsoft Windows MS Office cost, which comes without any technical support.
Mandriva Linux requires little maintenance as its software management system automatically handles dependency issues and avoids conflicts between applications. Additionally, the MandrivaUpdate utility allows free and easy updates through the Internet — this is an ideal way to stay current with the latest security-related software updates.
· Due to the strength of Linux, a typical Mandriva Linux system can run for months without a reboot. Additionally, the i586 version of Mandrivalinux Linux is optimized for Pentium class (and compatible processors) to provide the highest performance on this hardware.
In over ten years of widespread use, only a few rumored viruses have ever been recorded that affect Linux. This strong immunity can be explained by the fundamental architecture of the system which consists of independent layers that have specific features and strict permissions. Additionally, normal users have a strict and limited role on a Linux system; it's only the "root" user (administrator) who has the power to expose an entire system to possible danger.
Versions exist for x86, PPC, AMD64 and IA64.
How Mandriva Linux is being used?
Personal purposes:
Office (OpenOffice.org, KOffice, Abiword, Gnumeric)
Internet (Web, Email…)
Multimedia (Video, Audio MP3, RealPlayer, Flash player…)
2D and 3D games
Advanced programming (C/C /Java/Assembler/Perl/Python/HTML/PHP/GTK/QT)
Server use:
Web server (Apache with HTTP, PHP, Webdav…): Mandriva Linux is used to operate computers that deliver web pages.
Database Server (PostgreSQL, MySQL, IBM DB2, Oracle…)
Mandriva Linux is a useful operating system for computers designed to host database and to link them with Internet servers.
LDAP Server
A LDAP server stocks one or various directory data bases.
FTP Server
FTP Server are the computers that deliver files following the FTP protocol.
DNS Server
A DNS server attributes the IP addresses (numeric addresses) of computers linked to the Internet.
NIS Server
A NIS Server enables the globalization of user accounts on a given network
File Server in a Windows environment
Mandriva Linux manages the attribution and sending of files in a network of computers running on Windows thanks to the Samba application
Email Internet Server (SMTP, POP3, IMAP…)
Mandriva Linux is used in companies and on the Internet to manage employees' electronic mail.
Print Server
Mandriva Linux administers printing services for all machines in the computer network.
Scientific calculations (SMP, Clusters…)
Mandriva Linux is widely applauded by organizations and all those who need to carry out scientific calculations. Its optimization for modern processors gives Mandrivalinux Linux a significant advantage in comparison to other Linux systems.

Mandriva Linux 2010.1 – Torrent