Have you ever wondered why a person in your contact list appears offline to you all the time? Now you can spy your buddy to see his real Yahoo Messenger status. Use Yahoo Messenger Invisible Scanner to detect if a user is in fact offline or just invisible. Yahoo Messenger allows you to instant message with anyone on the Yahoo server. Tells you when you get mail, and gives stock quotes.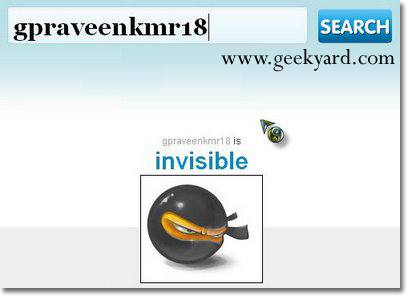 It can be done by following websites,
www.detectinvisible.com
www.imvisible.info
www.invisible.ir
www.invisible-scanner.com
www.scanyahoo.com
www.xeeber.com
www.ydetector.com
No need to install any software..All you just need to do is to visit the webpage and enter the yahoo ID which you want to check.
Just So Simple.
What's New in Yahoo Messenger?
Share photos instantly, send GIFs and even unsend messages. It's the fastest way to keep in touch with friends.
Instant, high resolution photo sharing lets you share your entire weekend at once in a photo carousel.
Why limit your reaction to an emoji? Express yourself with animated GIFs.
It's easier than ever to respond to messages and photos with a simple "like".
Chat Right From Your Yahoo Mail
Sign in to Yahoo Mail and check to see if the new Yahoo Messenger is available in your inbox. If it's not now, it will be shortly!
More Information About Yahoo Messenger
YM was Initial released on March 9, 1998.
Operating Systems: Microsoft Windows, Android, Symbian, iOS and Mac OS X/UNIX/Linux/FreeBSD/Solaris.
On November 30, 2012, Yahoo announced that among other changes that the public chat rooms would be discontinued as of December 14, 2012.quoting "This will enable us to refocus our efforts on modernizing our core Yahoo products experiences and of course, create new ones."
Until the chat rooms became unavailable on December 14, 2012, all versions of Yahoo! Messenger could access Yahoo chat rooms.
Yahoo has since closed down the chat.yahoo.com site (which is now a redirect to a section of the Yahoo! Messenger page) because the great majority of chat users accessed it through Messenger. The company is still working on a way to allow users to create their own rooms while providing safeguards against abuse. A greyed-out option to "create a room" was available until the release of version 11.
A recently added feature in Yahoo! Messenger allows users to connect with Facebook.