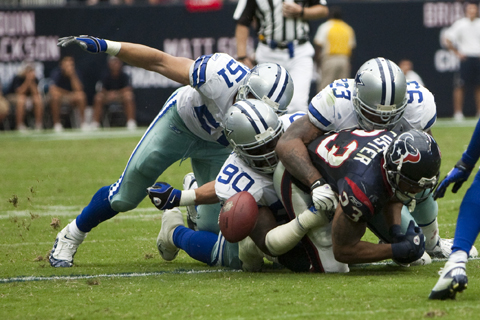 With football season in full swing, there's no better time than now to talk about the various ways in which football fanatics can keep up with their favorite players. We've certainly outpaced the days in which keeping up with your favorite team meant sitting next to a radio and listening in. Technology has taken the love of sports to an entirely new level, and for the millennial sports fan, this creates an abundance of conveniences you wouldn't otherwise receive. Below are just a few of the ways in which modern technology has taken sports to new levels:
1. Watch it In Real Time
Don't you remember the days where you decided you wouldn't plan a single thing on the days your favorite team was playing? For football fans, this meant that Sunday afternoon and Monday nights were out of the question. Short of a family emergency, you weren't going to budge from your comfy chair for anything.
Well, technology has helped sports fans (and those who need to get in contact with them) immensely. With the right subscription services, sports fans can now watch their favorite teams play no matter where they are. As long as you have a sound internet connection, the right operating system, and an internet capable device, you can witness all the action in real time.
2. Record It
There are those times in which you can't sit and watch the game because you have other obligations. Well instead of having to read about the game the next day (as you would have in times past), now you can easily record it and watch it later. Now some of you probably did record your games previously with the help of a blank VHS and your video player, but now it's much simpler to manage.
Sports subscription services such as NFL Sunday Ticket by Direct TV allow fans to check out the NFL Sunday schedule and record their teams playing. With the touch of a few buttons you can record a game or the entire season through your DVR. That way when you have the time you can come home and watch the game in clear HD without any interruption.
3. Instant Interaction
Sports and social media seem to go hand and hand these days. Now instead of having to wait until you get to work on Monday to brag about your team, you can instantly post about your team online. Social media accounts allow sports fanatics to share details of the game and interact with fellow fanatics in an instant. So even if you're watching the game at home alone, you have a community of millions of social media users right there ready to give you that live interaction right at halftime.
4. Fantasy Football Made Easy
Are you a diehard football fan? Well you'll certainly enjoy the idea of being able to create your very own fantasy football team in an instant. There are several applications that can be utilized to create your favorite team and keep up with scores, stats, and other info in real time.
Thanks to modern technology you can watch sports anywhere you are, record it for a later time, interact with other sports lovers, and even create your own fantasy team in an instant. If you're a lover of all things sports, or in this case all things football, then you've likely taken advantage of each and every one of these advancements. If you haven't done so, the start of the season is the perfect time to try out new things. You'll be surprised at how easy it is to try many of these technologies out in your spare time.