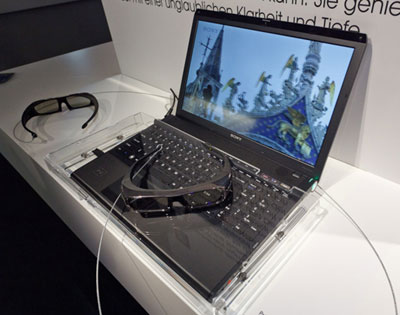 Sony has promised a 3D Vaio laptop computer this year. If it is true, then many people will be amazed at this new development in technology. Here is a look at this new development and what it means to the world of computing today.
Sony released a news story that they will offer a 3D Vaio which has a 3D screen, at a 1080p screen resolution. That's amazing any way you look at it. The prototype looks promising so far, according to Berlin's Stephan Shankland of CNET. He is quoted as saying that; "Sony will release this in the spring of this year".
One neat idea about this release is the ability to turn the 3D feature off as you like. That can mean a lot when you just want to watch anything normal. That is one concern that many have voiced regarding the release of this sort of technology. Think about it. Do you want to edit your paper in 3D? It's highly unlikely that you would. That's exactly why so many have warned against this sort of thing. It just isn't practical. So Sony has answered this issue by making the 3D feature an off and on button.
The question remains though, will we have to use glasses for the screen? Will it be as good as the theater 3D? These are aspects that many consider as Sony heads straight into the future with this laptop release. No matter what happens it should change the face of computing forever. We already watch televisions on our computer screens and use the computer on our televisions. What will happen next in technology? It's hard to say. It should change the face of gaming though/ that is a certainty. It is really exciting for all of the gamers of the world to watch what happens next in computer technology. Still the question remains, "when do we get the hologram"? That might just be the next thing around the corner since 3D is required before a projection of a 3D figure could occur. That's exactly what Sony could be thinking. After all, they are also releasing a 3D projection screen. Soon, we could be hologram in one anothes' rooms. So much reality, until we try to touch that is. Who knows? Maybe Sony will come up with a solution for that as well.
Furthermore, Sony has big plans to release a 3D channel soon for exclusive 3D TV content. That could be the next Netflix of the future. It is fascinating to sit and wonder what the future will hold for technology soon. It makes a person remember the days back in the 70's when we all imagined that we would communicate via holograms. Remember the Disney exhibit way back then? Ah, technology, nobody knows what will come next. Keep your eyes looking at Sony though this spring as this new Sonny 3D Vaio comes out to the public. Now all we have to figure out is how we will pay for all of this new laptop.