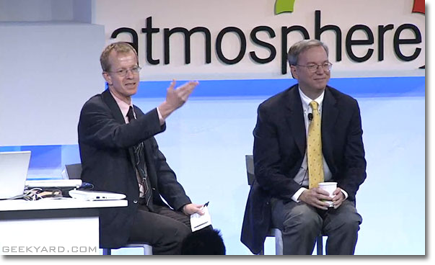 Google's Chrome OS will be here this year and in a recent interview,Google CEO Eric Schmidt during the Atmosphere Cloud Computing Forum revealed(Video) that Chrome OS devices should be relatively inexpensive when they go on sale .He estimated that they will cost between $300 and $400 and that all the cost will be associated with the hardware, since the OS itself is FREE. The most expensive part of the software is simply developing the web apps, Schmidt said.
Some strict requirements exist for Chrome OS, such as the need for a solid-state drive instead of a rotating hard disk, but the very low footprint of the platform will allow small drives that won't incur a cost penalty.
The early Google executive added that he viewed Chrome OS as one of the first operating systems in the past 20 years that could significantly challenge the current state of the market, where Windows and Mac OS have largely gone unanswered.
Such low prices could be instrumental to Chrome OS, which is expected to reach not just netbooks but also tablets because of its low demands. It will be relatively limited compared to a platform like the iPad as it will only have partial support for offline content, but significantly lower prices could reduce the cost of entry for those who would use such a device almost exclusively for the web and related tasks.