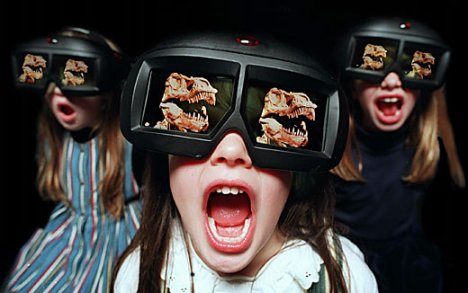 Have you ever tried looking through the 3D glasses? If no, then try having fun with it. It is the simplest thing which provides you with entertainment. They use such technique which gives you an impression of 3D appearance or shows image deepness in movie theaters that is known as stereoscopy.
You must be thinking that how these glasses actually work, that makes us so involved in the movie scenes, when you feel things coming out of screen when thrown in your direction or towards you. You sense that someone is grabbing you, or the action is actually involving you. Whereas, this is just an illusion that uses the phenomenon of binocular vision.This increases the attraction, and gives you pleasure watching 3D movies in cinemas.
How the 3D glasses work?
Binocular vision is such a logic used by 3D glasses. They utilize both the eyes to have different images in them, as according to this technique, our eyes are placed 2 inches away from each other. Therefore, when two different images strike the brain it naturally works to combine or relate both the pictures, giving you a 3D effect. This is truly an amazing work done by our brains which interpret things miraculously.
If you are still not clear about 3D imaging or stereoscopy, then let's have a look at this process in detail. While watching a 3D screen in a cinemas or theater, that is a 2d image but the 3D glasses make you view fantasy depth. There are two images that come from the screen to you, before your eyes perceive these two images, the 3D glasses work in order to guide each of the pictures to separate eye, known as binocular vision. When your eyes recognize the two slightly different images, it sends signals to the brain. Our brain works impressively here, by interpreting the unprocessed material provided to it, in a logical manner, and perceives the depth of the materials in this way. It associates these two images, and makes you have an artificepenetration of things you are watching, this phenomenon is known as stereopsis.
Types of 3D glasses
There are two types of 3D glasses, passive polarized glasses and active shutter glasses. The polarized ones are light in weight and look like sunglasses that are easy to wear; they do not stress your eyes if you are wearing for longer periods. They are inexpensive than active shutter glasses. Whereas, active shutter glasses are bulky in appearance as they have battery as well as transmitters. They are two or three times costly than passive polarized ones, and may provide discomfort to the people using it, because LCD shutter opens and closes swiftly.
For that reason, if you are excited to go for a movie in 3D cinemas, then wearing a good pair of 3D glasses will intensify your inclination and entertainment, giving you a false yet amazing feel of 3D imaging.