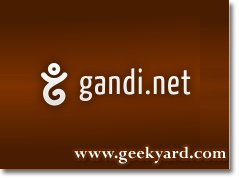 55,000 Promotional Codes Will Be Issued In Next 10 Days
Gandi.net Celebrating its 10th anniversary, the company is giving away 55,000 promotional codes in the following 10 days. These codes can be employed by old or new clients and will allow users to acquire Free Domain Names from Gandi and some of their partners.
Read:
Gandi will start offering codes at 14:00 GMT March 1, 2010, the promotion being available for the following 10 days till March 10. Every day, the registrar will give away 1,000 more promotional codes. There will be 1,000 on the first day, 2,000 on the second, 3,000 on the third and so on.
The promotional codes can be used by old and new clients alike, and they can even be passed to other persons as gifts for them to employ. Depending on how long a person has been a client with Gandi, the company will issue more promotional codes.
A new client will only receive 1  promotional code, &
A client who was been with Gandi since 2000 would be able to get 10 codes.
Domain names like .com, .net, .info, .me, .mobi, .uk, .fr, .tel, .be or .eu can be acquired using these codes until March 31 2010. After the domain names have passed their time limit, the clients have the option to let them expire or renew the registration with Gandi. The promotional codes can't be used to renew or transfer an existing domain name.
Follow these steps to get Free Domain Names
Fill up the registration form
Login using your credentials and request a promotional code.
If you receive one, log in your account again and register the desired domain name.
Thats it !!! Geekyard lovers Enjoy with a Free Domain Names.