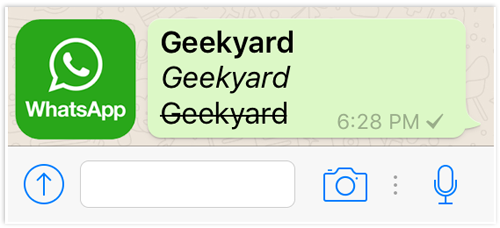 WhatsApp – The World's Most Popular Messaging App rolls out new features to it's customer now and then. Recently it came up with text formats like bold, italic or strikethrough text for message chats.
The popular messaging app added recently End-to-End encryptions to secure the private chat conversations.Following closely in the footsteps of Apple's conflict with the FBI over a locked iPhone belonging to one of the San Bernardino gunmen and an almost entirely united front from the tech world on the issue, WhatsApp has now expanded its end-to-end encryption across all its platforms, covering all forms of communication – voice calls, videos and chats involving multiple people.
This cool feature is now available for both Android and iOS users. Before we being first update your "WhatsApp Application" to use these text formats
WhatsApp brings text formatting to the platform, and what's more, you can combine all three text formatting options together in a single message. All you have to do is to put the text that you have to see as bold *inside asterisks* while typing, the phrase you need to italicise _between underscores_, and words you want to strike through ~between tildes~.
If you want to make a text appear in bold + italics, you can type the text _*between their respective symbols*_. Similarly, to combine all three you can type the text ~_*inside all three respective symbols*_~.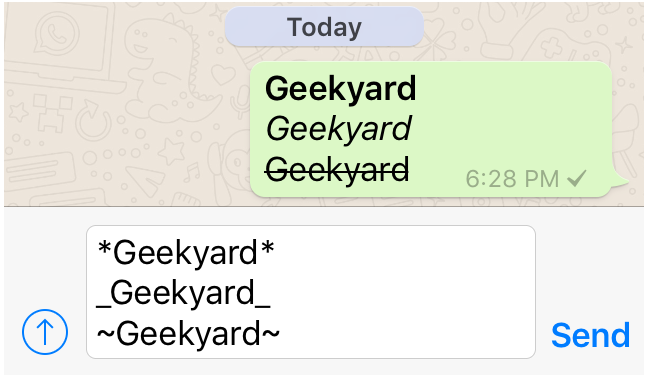 You can now also reply to messages quickly from within a notification, set block colors as chat backgrounds, and tap the quick camera button in a chat window to browse your camera roll.
Finally, there's the option to archive, delete or mute multiple chats at once. A long press on a chat in the Chats tab will select it, and then you can tap on other chats to select multiple entries. The controls for archiving, deleting and muting remain the same.
Latest Rumour:
WhatsApp might be developing official Windows and Mac OS X desktop applications that would allow users to chat with their contacts straight from a PC.