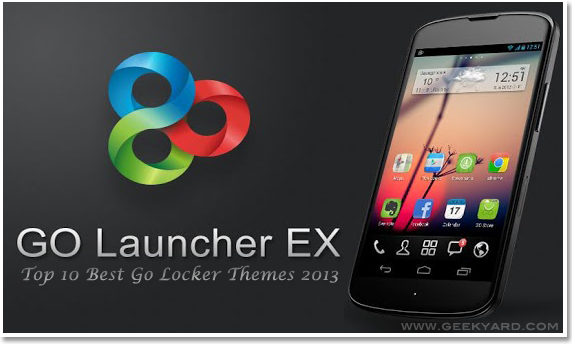 Most of the Android user might have known the cool customization features provided by GO Launcher EX. This app is the most popular Android home launcher replacement app in Google Play. GO Launcher EX. offers you many first-ever features to customize your own homescreen experience. This comes with plenty of widgets and themes that provides you speedy and smooth operation, fancy and utility functions with imagination.
Once can enjoy all these features GO Launcher EX for FREE!!! Go Developer team provides lots of applications like Go Launcher Ex, Go SMS, Go switch widget, and now GoLocker are all among the Top Free apps section in the Android Market.
Top 10 Best Go Locker Themes 2013 For Android
1) CRYix 2) Xperia 3) 3D Worm 4) Droid DNA 5) Juve 6) Industrial FourKey 7 ) SP 8) FourKeY 9) Santa Claus 10) Ultimate JellyBean
Personally I love Alienware themes and so I have installed "Go Launcher AlienMorph Theme & Locker" which is not listed above.