There is an app for everything, you must have heard this a lot these days. Well, there is! You want to learn a new language, make an exercise routine, find new recipes, call a cab or edit your pictures, there is an app on the app store to help you do it.
Well, here is a good thing, there are apps for parenting too. Digital methods of parenting are getting popular considering the influence of technology in our lives. Parents are becoming aware of the dangers associated with the use of tech devices. They want to educate and protect their kids from these dangers.
Along with talking to them about the harmful effects of too much screen time, cyberbullying, watching adult content, sexting and engaging with unknown people online and sharing personal information with them, it is essential that parents monitor their kids too. This is just like you tell them why it is bad for them to stay out late but also set a curfew for them and make sure that they follow the rule.
FamilyTime parental control app works on the same rules, but it is smarter and more convenient. The benefit of an app is that it does the work for you and you don't have to interfere or snoop.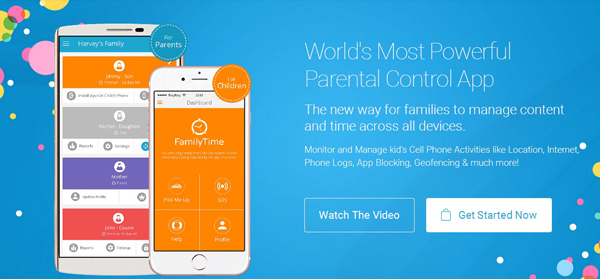 Cool Features of "FamilyTime Parental Control App":
It gets deeper access to their records with details like time, date, and location. Take a look at all the features in detail. It allows you to:
Lessen their screen time with digital phone locks. The locks are customizable and can be set as you want.
View their mobile apps and restrict the use of unsafe or questionable apps and games
Monitor web activity and bookmarks regularly.
Apply age filters on iTunes.
See their call logs, SMS, and contacts to keep an eye on their communications. Put contacts on a watch list to get alerts.
View their location history to know where they go and detect any shady activity.
Get reports on their whereabouts with the help of Geofence places.
Kids can send you panic alerts and ask you to pick them up along with a location map.
Set speed limits for teens and get alerts if they cross those limits.
Single parent account to manage multiple accounts. There is a simple installation process and all the parenting can also be done from the web.
Conclusion:
An app gives you a passive access to your kids' digital persona. You don't have to go through their phone or physically take it away from them, just a simple command can let you do that. FamilyTime parental control app is great at digital parenting and it is legal as well. It can only be used with the kids' knowledge. The best way is to make them a part of the process and let them know how it is useful for them. So get hold of it today and be a pro at digital parenting.