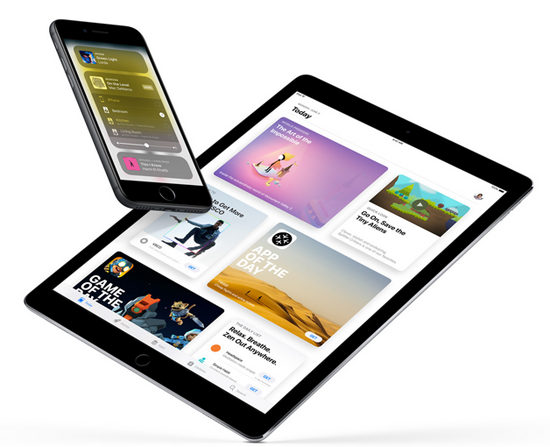 Are you ready for New iOS 11?
Apple's new iOS 11 makes iPhone and iPad so smart, they learn from you. Apple works hard to make this Mobile Operating system stand out of the crowd. iOS 11 sets a new standard and with lot of efforts Apple made this user friendly operating system. It makes iPhone better than before. It makes iPad more capable than ever.
Read:
No doubt, iOS is the world's most advanced mobile operating system. iOS 11 are so capable, they help you in more powerful and personal ways.
iOS 11 Release Date
Expected Release Date: September 2017. Yes, just wait for one month then it's all yours.
iPhone New Features in iOS 11
Now let's see some amazing features of this new operating system.
1. Revamped Control Centre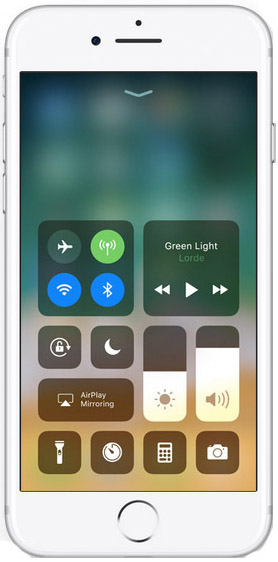 A completely revamped control centre comes with lots of cool buttons. Finally the long waited "Mobile Data" is added in Control Center.
Apple's iOS 11 lets you customise the redesigned Control Centre so you can change the settings for the things you do most. Want to be ready when inspiration hits? Add a Voice Memos control. Want to dim the lights in the dining room with a tap? Add Home controls. Or use 3D Touch in Control Centre to unlock even more commands.
2. New Live Photos Feature
iPhone photos are more live now. Now your Live Photos can be even more expressive, creative and just plain fun.
Add awesome effects to your Live Photos in iOS 11. The new effects include Loop, Bounce, and Long Exposure.
Fun Video Loop: Turn a Live Photo you love into a fun video loop. Choose an image yourself or let Photos suggest which ones would make great loops.
Bounce: Make your Live Photo rock back and forth. While you shake with laughter.
Long Exposure: Capture the elements of time and movement. Create a beautiful effect that used to be possible only with a DSLR camera. Fireworks become bright streaks across the night sky. A waterfall, a magical blur.
The Photos App in iOS 11 gains support for viewing animated GIFs. Users can access GIF images inside an album titled "Animated".
Live Photos uses High Efficiency Image File Format to decrease photo sizes.
Videos will be encoded in the new High Efficiency Video Coding video compression format, enabling improved quality while also decreasing size by half.
3. iPhone Camera Improvements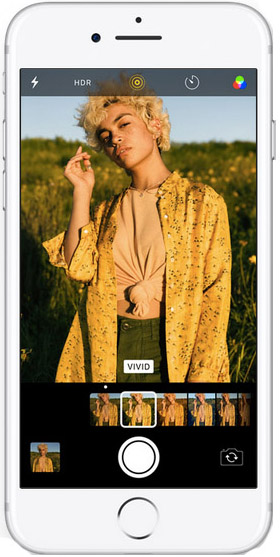 iPhone Camera is the best smartphone camera in the world.
New professional-quality filters take the camera on iPhone to another level. Usually these kinds of effects are available in YouCam Perfect App. Personally, I love YouCam Perfect App. Portrait photos are more expressive. Skin tones are more natural. There are even filters for applying classic looks to your portraiture photography. Next-generation compression technology lets you take new photos with the same quality as before at half the file size.
4. Totally Redesigned Message App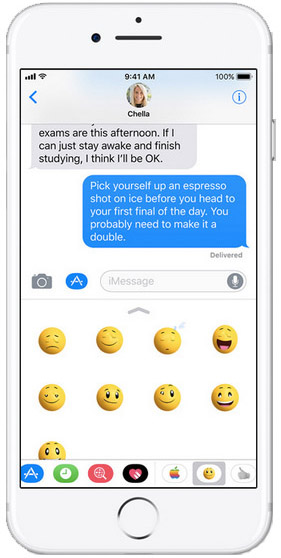 Chat if always fun. Now it's even easier to get to all the fun. Share stickers, emoji and games with your friends just by swiping across the totally redesigned app drawer. Messaging made easy and more lively!!! This App makes iPhone stand out of the crowd.
5. Siri: The Best Personal Assistant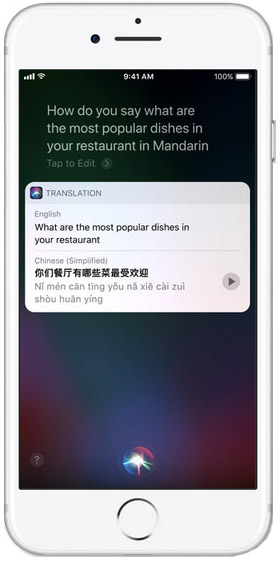 iOS 11 makes the world's most popular intelligence assistant even more helpful. Through advanced machine learning and artificial intelligence, Siri is more essential throughout your day, every day.
6. AirPlay 2: Home, Sweet-Sounding home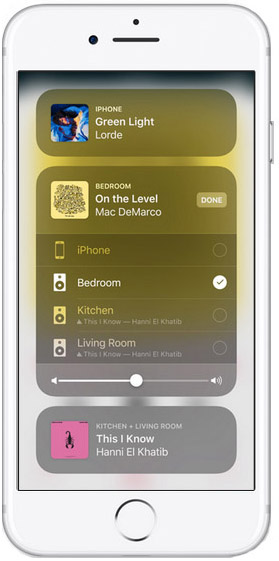 With the new AirPlay 2, you can control your home audio system and the speakers throughout your house. You can play a song in the living room and your kitchen at the same time. Adjust the volume in any room. Or have your music start instantly on all your speakers — in sync with one another.
7. Lock screen: All your notifications in one handy place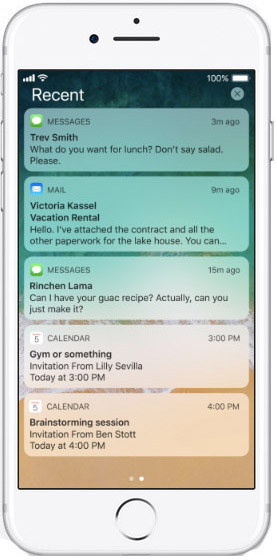 iPhone Lock screen is even more powerful. To get to all your notifications, just swipe the screen from top to bottom. At a glance, you can see both your recent and missed notifications like Mails, Messages, Events in one place.
8. QuickType keyboard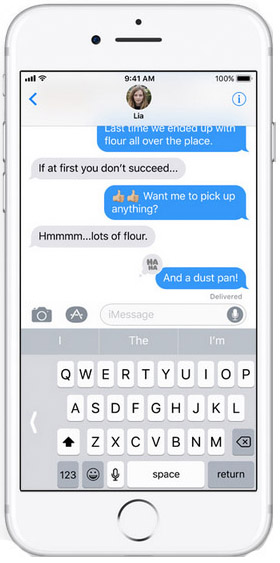 If you are having coffee and messaging someone. Then, Simply touch and hold the emoji key, select one-handed typing and the keys will instantly move closer to your thumb.
9. iPhone Storage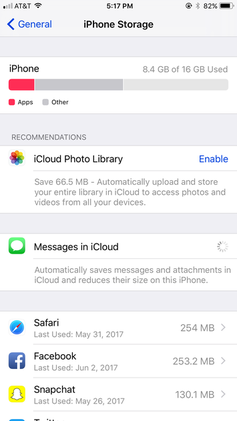 The latest operating system displays personalized recommendations. Personalized suggestions will help the user free up storage space on their device, including emptying Photos trash, backing up messages, and enabling iCloud Photo Library for backing up photos and videos. If you are having only 16GB Storage then this plays a vital role in managing your iPhone storage.
iOS 11 Supported Devices
The following devices are compatible with the new iOS 11.
| | | |
| --- | --- | --- |
| iPhone  | iPad | iPod |
|  iPhone 7 |  12.9-inch iPad Pro 2nd Gen |  iPod Touch 6th Gen |
|  iPhone 7 Plus |  12.9-inch iPad Pro 1st Gen | |
|  iPhone 6s |  10.5-inch iPad Pro | |
|  iPhone 6s Plus |  9.7-inch iPad Pro | |
|  iPhone 6 |  iPad Air 2 | |
|  iPhone 6 Plus |  iPad Air | |
|  iPhone SE |  iPad 5th Generation | |
|  iPhone 5S |  iPad mini 4 | |
| |  iPad mini 3 | |
| |  iPad mini 2 | |
Functionality Removed in iOS 11
The iCloud Drive app is removed and replaced by the Files app.
iOS 11 drops the native system integration with Twitter, Facebook, Flickr, and Vimeo.
The ability to trigger multitasking using 3D Touch was removed.
Bottomline:
With iOS 11, iPhone and iPad are the most powerful, personal and intelligent devices they've ever been. Among iOS 11's changes, the lock screen and Notification Center are combined, allowing all notifications to be displayed directly on the lock screen. The various pages of the Control Center are unified, gaining custom settings and the ability to 3D Touch icons for more options.
In short, the best mobile operating system.
References: