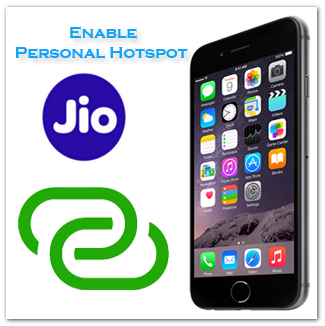 No wonder Ambani's Reliance JIO 4G SIM is used by Millions of people across India since they are providing free internet data till March 2017.
Today Reliance Jio is available in 18000 cities and towns and two lakh villages. By March 2017, we will cover 90% of India's population.
Reliance Jio will realise India's digital dream. It will fulfil Prime Minister Narendra Modi's Digital India vision.
Reliance Jio is built to speak Internet Protocol (IP). Most telecom providers haven't built their network for data or Internet, they have built it for voice calls. With the revolution of Internet, they have had to retrofit IP.
Recently my brother bought a Reliance JIO 4G SIM using Aadhar card.
He installed JIO Sim in Apple iPhone 5S and internet speed was quite good. But there were no settings to Enable Personal Hotspot so he couldn't use it in Laptop or other phones.
So, follow this tutorial to fix the missing Personal Hotspot option in iOS.
Top 5 Advantages of using "Reliance JIO 4G SIM"
1. India's First LTE-only Network:
Ambani's Reliance Jio is the India's first LTE-only Network. Which means there won't be any network dropping to 2G or 3G. And Reliance competitors network sometimes drop to 2G or 3G where there is no 4G service coverage.
2. VoLTE Calls:
No need to pay for voice calls. All you need to do is pay for data and there won't be any separate charge for number of calls made. This system is followed in many countries and for the first time in India customers can enjoy VoLTE calls.
3. No Extra Charges for SMS:
No extra charge for SMS but you can use only 100 SMS according to the TRAI regulation.
4. Free Roaming:
Reliance Jio offers free national wide roaming and this is one of the biggest advantage over its rivals.  All you need to do is just pay for data.
5. Wi-Fi Data Plans:
The tariff plans of the service also include Jio's Wi-Fi data plans with which users get some amount of data and they use that data to connect through some Wi-Fi hotspots provided by the company.
Steps to Enable "Personal Hotspot" in iOS:
After inserting Reliance JIO 4G SIM follow the below steps to fix the missing personal hotspot option,
Goto Settings and select Mobile Data.
You will notice there won't be any "Personal Hotspot" option.
So, select "Mobile Data Network".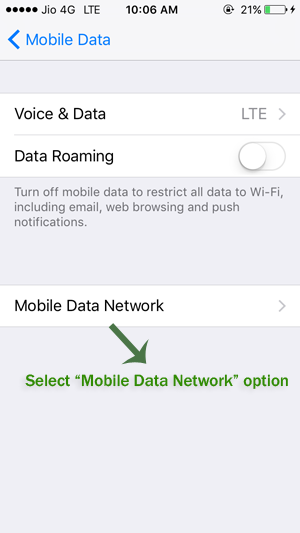 In APN manually type "jionet" (Without quotes " ") . Check the below screenshots.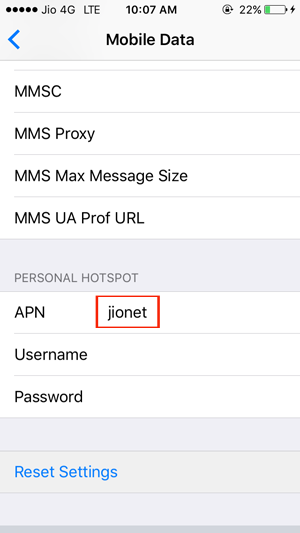 That's it now you need to few seconds and your LTE and signal's will drop and recover again.
Now you will have the Personal Hotspot option back which you can use to tether your Reliance JIO 4G internet on your computer, laptop or other mobile and smartphone.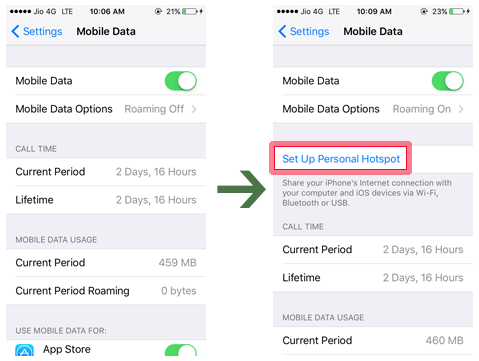 Enjoy the unlimited internet package from Reliance JIO till March 2017.
If you are facing any trouble in enabling "Personal Hotspot" share in comment section below.
Finally, Reliance Jio will move India from data shortage to data abundance.