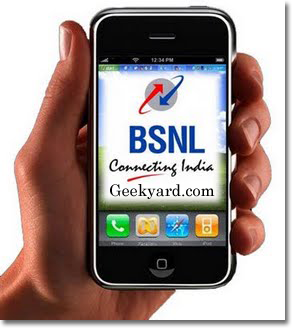 Get the Updated and Latest trick working for BSNL.
GPRS (General Packet Radio Service) offers high speed data services in GSM network. It uses Packet Mode Technique to transfer data and provides connectivity to Internet. Users will be able to browse Internet using handsets supporting Internet browsing. They will also be able use their e-mail accounts as is being done through landline Internet access. Also browsing of Internet from Laptops and Desktop computers is possible by connecting the computer with the GPRS enabled mobile handset through a data cable or Infrared connectivity.
Using GPRS you can download in your mobile the following:
Polyphonic ring tones
MP3 tones
Color logos
Wallpapers
Videos
Animations
Games
E-mails and more.
GPRS/EDGE tariff applicable to 2G Data Card and Voice plans:
You can download Polyphonic ring tones, wallpapers, Videos, animations, games etc from www.cellone.in
Moreover, GPRS enables the users to send and receive MMS (Multimedia Messages). Presently MMS can be exchanged among CellOne numbers in Eastern Zone only. MMS is combination of
Text
Picture
Video
Speech
Animation
Music
Firstly do these settings in you mobile
Follow  The Settings
apn: portalwest.cellone.in or
wapwest.cellone.in
ip: 10.100.3.2
port: 9209
Now open https://flyproxy.Com or Any secure site now browse and download with great speed
Working With Any Balance. But then too You need to check. Because it could be Risky
Note:
working in Maharashtra
Now second step For PC
Use Bsnl GPRS on PC
Step 1: Activate bsnl 0 rental
Step 2: Then create a manual conection in pc suite as follows apn(acces point)=wapwest.cellone.in
Step 3: Open opera and Follow This tabs -> open ->tools ->preference ->advanced ->network ->proxyservers
Type proxy address(10.100.3.2) & port(9209) in http,https, ftp
Step 4: Tick on enable. Http 1.1 for proxy
Step 5: Press F12 on keyboard-tick on enable proxy server , press enter
Step 6: Now save these and activate them now make any ssl(https) as home page and enjoy.
Here are some ssl sites:
https://flyproxy.com
https://fire-proxy.com
https://kproxy.com
Now U got it WORKING