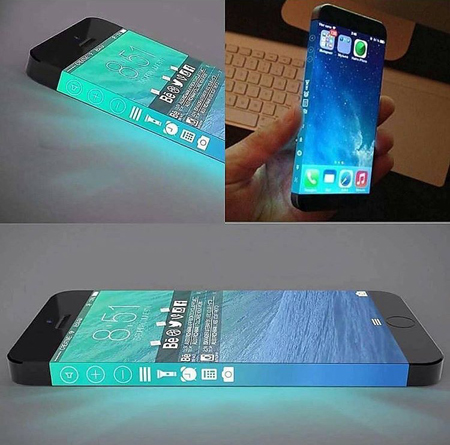 Bought a new iPhone? What to give a unique style to it? Then buy a Unique stylish iPhone 6 or iPhone 6S and make it stand our of the crowd.
In this post, I have shared few iPhone 6S cases here which are worth buying. The cases shared here not only gives rich look bu also saves your costly iPhone mobile from damage.
1. Spigen iPhone 6/6S Cases and Covers: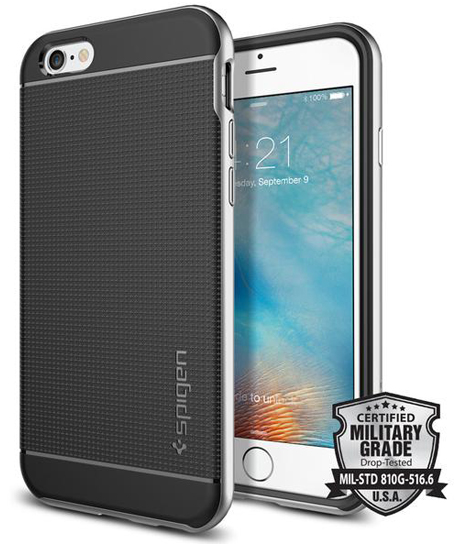 Spigen is one of the popular iPhone Case brand and it's worth trying. For my earlier iPhone 5S I used Spigen Neo Hybrid case and for my new iPhone 6S also I am using Neo Hybrid case. It is not only lightweight but also durable.
The bumper comes in three different colours Stalin Sliver, Gunmetal and Metal Slate.
Cool Features of "Spigen iPhone 6S Neo Hybrid Case":
Spigen Cases Now Certified MIL-STD 810G-516.6 Military Level Protection.
Spigen's Neo Hybrid® case comes with reinforced bumper protection and a slim profile.
Metal coated buttons are easy to feel and press.
Improved bumper is reinforced at cutouts for extra durability.
Patterned TPU(Thermoplastic Polyurethane) offers extra grip and inner shock absorption.
Raised lip and camera cutout offer lens and screen protection.
Personally I love Spigen!!!
Compatible with iPhone 6 (2014) / iPhone 6s (2015)
Official Site: Spigen Neohybrid Case | Spigen iPhone 6S Case Collections
2. E LV Hybrid Armor Defender Shock-Absorption Bumper Case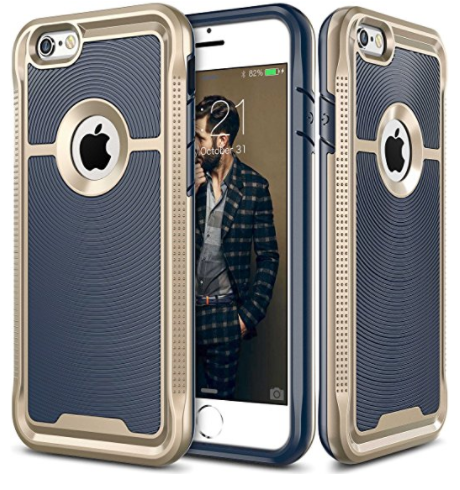 Cool Features of "E LV Hybrid iPhone 6/6S Case"
Compatibility: Especially Designed for Apple iPhone 6S/ 6.
Quality Design: No doubt ELV Hybrid case comes with a better design quality such as elegant appearance, beautiful design and powerful protection.
Dual layer protection: High-impact polycarbonate skeleton. Premium grade silicone skin to provide added protection against drop, bump and shock.
Perfect Fit: Form-fitting case designed to perfectly fit your device. Easy access to sensors, and ports Full access to user interface, camera lens, headphone jack, speakerphone and microphone.
Good Quality: Premium coating for a soft feeling texture ( Hard Core Case + Soft Silicone Finish Case).
Perfect Cut outs: Exposed buttons and port openings for quick and easy access to camera, access to Audio ports and charging ports
Good Grip: Non Slipping TPU Bumper provides excellent grip and corner protection.
Shock Absorbing Design: Similar to Spigen, ELV Hybride also comes with shock absorbing design technology. If iPhone falls; the shock gets evenly distribute and circulate the impacts into the bumper.
Buy from Amazon:
http://www.amazon.in/dp/B0191PU0Z4/ref=twister_B01LZSW1CW?_encoding=UTF8&psc=1
3. Apple Leather Case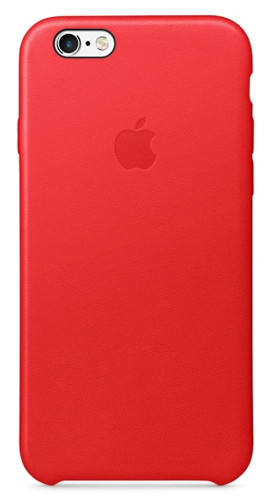 Apple provides hight quality leather case for iPhones. It's available in five different colours – Midnight Blue, Saddle Brown, Rose Grey, Brown, Black and Red.
Recently Apple launched iPhone 7 Red colour. For every (Red) purchase you make it directly gets contributed to Global fund to fight AIDS.
If love RED colour don't hesitate to buy this stylish leather case.
These leather cases by Apple are made from specially tanned and finished European leather for a luxurious feel and are precision crafted by the same designers who create iPhone.
The soft microfibre lining on the inside helps protect your iPhone.
And on the outside, you see colour that's more than surface deep, thanks to a dye that's infused into the leather.
Buy from Apple or iStore:
http://www.apple.com/shop/iphone/iphone-accessories/cases-protection?page=1#!&f=iphone6s&fh=458b%2B468d
4. Caseology Wavelength Textured Pattern Grip Cover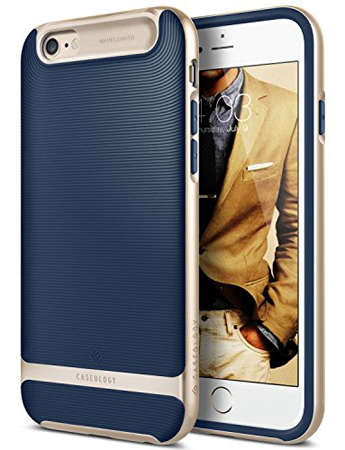 The Caseology Wavelength Cover is a trendy and innovative design. It provides all the drop protection you'd hope, with air cushions providing shock absorption.
Dynamic Aesthetics: A subtle ridged pattern provides visual interest.
Soothing Texture: The three-dimensional wavelength pattern provides extra grip and is comfortable in the hand.
Reliable Protection: A TPU sleeve and polycarbonate bumper provide two layers of drop protection.
Quality Coating: Satiny finishes on both the bumper and sleeve fight discolorations.
Phone Compatibility: iPhone 6S Case for Apple iPhone 6S (2015) / iPhone 6 (2014)
But on top of the TPU shell there's a textured fabric finish, making it comfortable to hold and giving it an eye catching look, particularly in combination with the two-tone colour scheme.
Purchase from Ebay
http://www.ebay.in/itm/172382071989?aff_source=Sok-Goog
5. Waterproof iPhone 6/6S Case – ISELECTOR IP68 Certified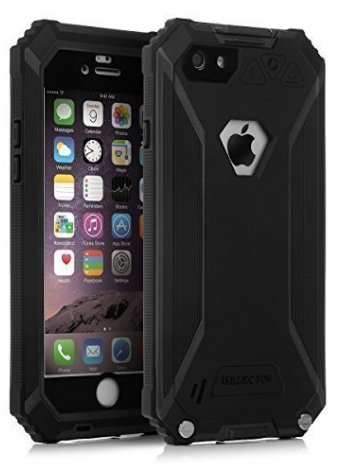 What to protect your phone completely from water? Then ISELECTOR IP68 certified case is one of the best choice.
Cool Features of ISELECTOR Waterproof Case:
It comes with shockproof, Dirtproof, Iceproof and Snowproof Case.
The case allows you to access the Touch ID. Works perfect with Touch ID of both iphone 6 & 6S and force touch of iPhone 6S
Even tough it provides full body protective cover, but there is no access to Mute Key.
Headphone jack only fits the original headphones.
Please water test your ISELECTOR waterproof case before you set your iPhone 6 into the case.
DIVE DEEPER: Iselector waterproof iphone 6 case keeps your iPhone dry when you're soaking wet. It's rated to survive hour-long dunks up to 2 meters, dive deeper and stay down longer.
ALL-AROUND PROTECTION: IP68 waterproof, dirt proof, ice proof, scratch proof and even shock proof, withstands drops from 1.5 meters.
Purchase in Amazon Online:
http://www.amazon.in/Waterproof-ISELECTOR-Certified-shockproof-Protective/dp/B012GLOBE6
Conclusion:
In short, a case should be a protective one to your iPhone. In order to protect your iPhone you must make a right choice in buying a hight quality case.
Above all, don't get carried away with design alone. Please check the rubber quality, bumper quality and button accessibility. Most of all, before making online purchase read the user reviews.