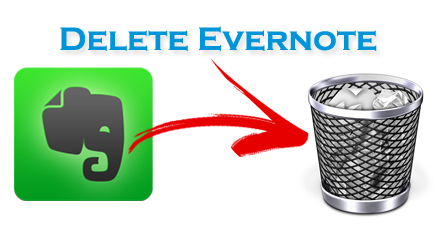 Problem:
I am unable to Uninstall or remove Evernote from Mac operating system. I tried Quitting the application and DELETE Evernote from Application Folder. But it throws the following error.
"The item "Evernote" can't be moved to the Trash because some of its plugins are in use"

Solution:
This error occurs because at the backend the Evernote Plugins are in use. So how to fix this error and remove Evernote completely from Mac OS X? It's quite simple just follow the below steps.
Read: AppCleaner: Free Uninstaller Utility for Mac OS X
Completely Uninstall Evernote from Mac OS X
There are two versions of Evernote for Mac: direct download (from website) and the Mac App Store. Please note that their databases are in different locations on your computer so if you uninstall one version and install the other version, your app may be temporarily unable to locate any locally saved notes.
In case if you have installed Evernote from Mac App Store. Follow the below steps for uninstallation.
Click Launchpad (Mac Shortcut Key: F4)
It displays all the installed application in Mac OS X.
Just press and hold "ALT" key.
It shows "X" button at the left corner top of Evernote icon.
Click on the "X" button to uninstall the Evernote application.
If case if you have installed the Evernote directly from Website then follow the below uninstallation steps.
1. Press Control Key and Click on Evernote. or Right click on Evernote.
2. Select "Show Package Contents"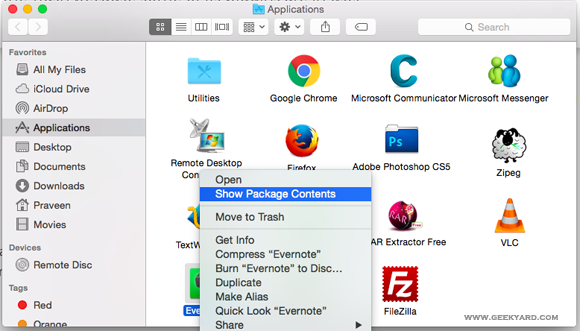 3. Open Contents Folder
4. Delete the Plugins folder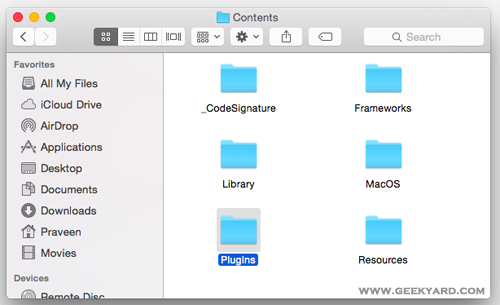 5. Now goto Application Folder
6. Select Evernote
7. Press Command + Delete
8. And move it to Trash
9. Empty to Trash
This completely removes the Evernote application from your Mac Operating System.
How to uninstall and reinstall Evernote
Detailed uninstall or reinstall procedure shared in Evernote official site for the following things.
Evernote for Mac
Windows Evernote Application
Evernote for iPhone, iPad, and iPod touch
Android Mobile Evernote Application
Evernote for Windows Phone
BlackBerry 10 Evernote Application
Conclusion:
No doubt Evernote is the best app to Capture, organize, and share notes from anywhere. Your best ideas are always with you and always in sync.
If you are facing any issues, please contact me.