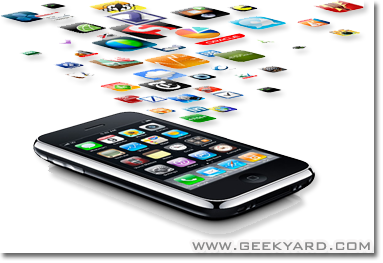 You already know that your iPhone is a boon to productivity. With it you can stay in touch with the office, your social networks, and your email while staying abreast with the latest news. You can even meet up with your friends and clients using the location services as you listen to your favorite tunes. One way you can use your iPhone even more is as a remote control for computers and other electronic devices.
Check out the 7 best iPhone remote control apps and you'll once again be surprised at the power that is in your hand! 😉
1. EyeTV (Free):
Turns your iPhone into a mobile television that shows you live and recorded programming via a WiFi or 3G data connection. This app works with the EyeTV application for Macintosh that runs on your computer if it has an Intel Core 2 Duo or better CPU. The EyeTV app streams programming from your computer to your iPhone which then controls it via remote access. This app is free, but requires a subscription to EyeTV running on your Mac for it to work.
2. Remote (Free):
A free app for your iPhone that allows you to control your computer as it plays music from your iTunes library or AirTunes. This app controls your Apple TV as well, allowing you to select programming from the palm of your hand. Tap the screen, flick your finger and you'll have one of the coolest entertainment controllers around.
Takes your iPhone to the next level by making it function as an air mouse from across rooms or as a controller for multimedia presentations. You can use your iPhone to manage all your media entertainment with this powerful product. This is the ultimate controller for your home entertainment computer.
Gives you VNC access to your computer from your iPhone wherever you are. This handy application lets you use all the powerful applications and files that reside on your home or office computer from the convenient iPhone platform. You see the screen of your computer on your phone's screen, making it an attractive tool for monitoring your children's computer use even when you are not home. You have to have iTeleport connect installed on your computer in order for this app to work.
Bills itself as an 8-in-1 remote control application for your iPhone that can handle almost any remote control task. This app includes a 3 button touchpad for computer navigation, a textpad with handwriting recognition, a full-screen keyboard, an accelerometer-based mouse, media controller, application launcher, and a user customizable controller. With this app on your iPhone, you can keep everything under your control. Use of this app requires a "receiver" to be installed on your PC or Macintosh computer.
Lets you control your home DirecTV box from your iPhone. This is a free app that is downloadable from iTunes. Check scheduling, set your recording options, and read details about your favorite shows all from your iPhone. This app is perfect whether you're stuck in a bank during a holdup (like in the TV commercials) or if you have to work late so you never have to miss your favorite programming.
Allows customers to download and view content directly on their iPhone, making it even more spectacular than the DirecTV controller. You can also program your DVR and check programming schedules. This app is a free download from iTunes, but it requires a U-Verse subscription.
With these 7 best iPhone remote control apps, you can get even more use out of your iPhone while enhancing your productivity and entertainment options. 🙂