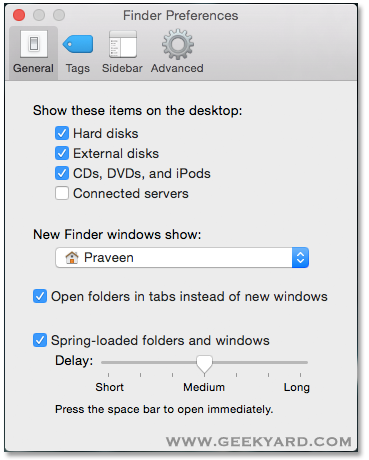 Mac OS X Hard Drive Icon is not appearing on my MacBook desktop. Is there any way to Mac OS X Hard Drive Icon on Desktop? In this post lets see how to do this.
Learn how to show or hide "Macintosh HD" hard drive icon on Mac OS desktop.
In the Finder, choose Preferences from the Finder menu.
Click the General icon on the toolbar.
Select "Hard disks" in the "Show these items on the desktop:" section.
Close the Finder Preferences window.
If you don't know Mac Keyboard shortcuts and Terminal commands then read:
Additional Tips:
You can also choose what "New Finder" should launch.
Select in drop-down menu any of the following which you are using frequently Desktop, Documents, iCloud Drive, All My Files, Macintosh HD or from Other… option browse and set your customised folder you wish.
Top 10 Mac OS X Tips & Tricks Every Mac User Must Know:
The following are Most wanted Tips and Tricks which must me know for every Mac user. If your are newbie to iMac or MacBook Pro laptops then the following tips highly useful.
Mac OS makes life simple 🙂