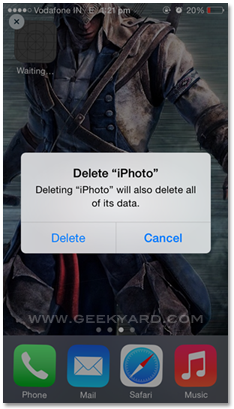 Today I was installing some Photo Resizer App and one app got struck in "Waiting" state. This grey app could not be launched or removed on IOS7 using long press of Home icon. Rebooting the phone or re-synching with iTunes is also not working. I surfed net any found this working solution.
Steps to Fix "Waiting" state iPhone Apps
Just follow the below steps given below to fix this issue without any restore or reinstallation of apps.
Goto Settings –> iTunes& App Store
And Logout
Now put the mobile in Airplane Mode.
Reboot the device by pressing Power + Home till it turns off
Now Turn On your iPhone.
Long press Home icon until you get X mark on apps.
You can now DELETE the "Waiting" state grey icon(As shown in above screenshot).
That's it!!! Issue fixed.
Check how to transfer iPhone apps from iPhone to iPad, and vice versa.