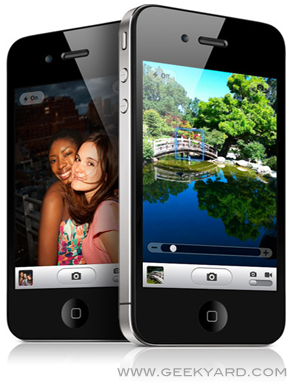 With the launch of the new iOS 5, the iPhone 4 camera has greatly benefited from the new features that have become available. Some of them are listed here:
1. Ability or Access the Camera even if the screen is locked:
If you double tap the home key, the camera icon appears on the slide bar and you can go to the Camera App by clicking it.
 2. Take a Picture using the Volume-Up Button
The user now has the ability to take a picture by using the volume-up button to take a photo. This gives more flexibility while shooting than the only option available till now of clicking the on screen icon to take the picture.
3. Remote Shutter Release using a headset.
If your headset is Apple certified, then it also works with the volume-up button mentioned above for the remote shutter release.
4. Creating Albums
This was a major gripe of users and has been sorted out now. You can now create Albums within the photos App against the earlier option of putting all your pics and videos in the Camera Roll and the syncing and sorting later.
7. The Pinch Zoom effect
The user can now use pinch to zoom which gives more flexibility than the earlier option of using the on-screen zoom bar which is also present.
8. Exposure and Focus Lock
If you press and hold your finger on the iPhone screen, it locks the auto focus and exposure balance on a particular area of the image.  This comes handy for portraits and gives added benefits for creative usage.
9. New Options in the Menu
New options have been added in the Camera app. This includes the HDR (High Dynamic Range) option as well as the ability to turn on the new "Grid" display.
10. Grid View Feature
The grid view feature has been provided to help with the image composition.
11. Enhanced ability to switch between the Camera and Photos App
The switch between the Camera and Photos app has been improved.  You now have a blue icon to return to the camera and you can also swipe left to see a picture just taken and then swipe right to return to the shooting mode.
11. Editing in Camera
The new iOS 5 adds limited editing features to the camera app. This includes the ability to rotate the images. You now have an auto enhance feature as well and the ability to get rid of the red eye which is fixed by a simple tap. You now have the ability to crop your pictures and various different ratios for cropping are offered as well.
12. Share your picture.
The new iOS add more sharing options to the picture including the ability to tweet.
The new features are a welcome addition to a hugely popular product and will serve to increase its reach and fend off the Android challenge.
Checkout:
Apple's iPhone 4S Handset is now available for purchase in India