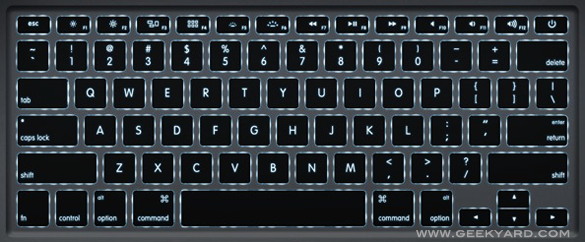 Problem:
Macbook Pro keyboard backlight stopped working suddenly. I tried enabling "Illuminate in low light conditions"(System Preferences –> Keyboard & Mouse option) but still the problem exists. How to fix this issue?
Solution:
This problem is due to you might have pressed F5 button(This sets the light to 0). To enable keyboard backlight Press F6.
Now you must use the F5 and F6 keyboard keys to manually control the key backlighting level, this becomes the only way the illumination is impacted.
That may sound a little contradictory, but disabling the automatic illumination feature gives you complete manual control over the backlit keys, which lets you set a brightness level you want to use all the time and it will stay consistent, regardless of external lighting conditions hitting the sensors or not. Just be aware that the illuminating keys will no longer adjust themselves at all, so if you do notice any negative battery consequences you may wish to set the brightness on the lower end.
Also read: How to Turn ON Backlit Keyboard in Macbook Pro? and List of 175 Mac OS X Terminal Commands
Some Useful Mac Articles:
Mac OS X includes iTunes, Time Machine, Quick Look, Spaces, Spotlight,Dashboard, Mail, iChat, Safari, Address Book, QuickTime, iCal, DVD Player, Photo Booth, Front Row, and more.
The MacBook Pro is a line of Macintosh portable computers introduced in January 2006 by Apple Inc., now in its third generation. Replacing the PowerBook G4, the MacBook Pro was the second model to be announced in the Apple–Intel transition, after the iMac. It is the high-end model of the MacBook family and is currently produced with 13- and 15-inch screens. A 17-inch version was available for sale in April 2006.