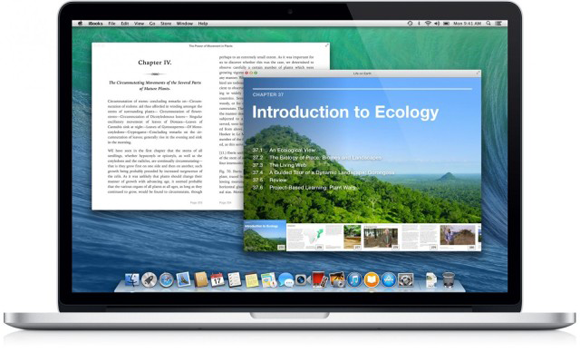 Apple wednesday released OS X Mavericks Developer Preview 5, a new beta build of the company's upcoming desktop OS featuring a preview of iBooks.It's the first update to Mavericks since Developer Preview 4 was released on July 22.
OS X Mavericks Developer Preview 5 is immediately available for download to registered Apple developers and includes a preview of iBooks for Mac.
When testers sign in with their iTunes account, they'll be able to access their existing iBooks library, as well as the iBooks Store.
OS X Mavericks Developer Preview 5 also includes a pre-release version of iPhoto (9.4.6 build 901.26) for the purpose of testing compatibility with Mavericks.
OS X Mavericks is the most powerful OS X ever and also the most power efficient. Your apps automatically benefit from energy saving technologies in OS X Mavericks, and new APIs help you make them even more efficient. With new AV Kit frameworks, Sprite Kit, Map Kit, and more, you can build your most incredible apps yet.
OS X Mavericks and Xcode 5
Developer Previews of OS X Mavericks and Xcode 5 are available from the Mac Dev Center. Sign in with the Apple ID associated with your Mac Developer Program membership to download and install OS X Mavericks on your Mac.
Developers who already have a Mavericks beta installed can just fire up the Mac App Store and fetch the new Mavericks DP5 from the Software Update tab.
Download: OS X Mavericks Developer Preview 5 from Mac Dev Center