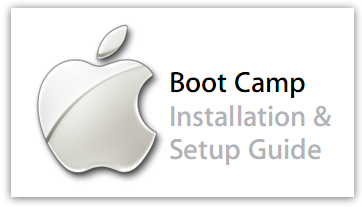 Today morning only I published an article in Techpraveen(Computer Tips & Tricks Blog) on How To Install Windows On Your Mac Using Boot Camp. Its an step-by-step tutorial with screenshots 🙂 And here is PDF on Boot Camp Installation & Setup Guide from Apple.
Run Microsoft Windows on an Intel-based Mac computer
Boot Camp enables you to install Windows on your Intel-based Mac computer, using a Microsoft Windows install disc that you provide. Windows is installed on its own partition. After installation, you can use either Windows or Mac OS X on your Mac computer.
The Boot Camp Assistant application helps you create the Windows partition and restart your Mac using your Windows installation disc. Then you can follow these instructions to install Windows and install software drivers that enable Windows to work with your Mac hardware.
Topics Covered:
Step 1:
Run Boot Camp Assistant
Creating a Partition for Windows
Step 2:
Install Windows
Selecting the Windows Partition
Formatting the Windows Partition
Setting Up Windows
Step 3:
Install the Boot Camp Drivers for Windows
Starting Up Using Mac OS X or Windows
Setting the Default Operating System
Selecting an Operating System During Startup
Using Windows on Your Mac
Using an Apple Keyboard with Windows
Using the Function Keys on an Apple Keyboard
Right-Clicking
Scrolling with a Trackpad
Using an Apple Remote
Using Bluetooth Devices with Windows
Ejecting Discs
Setting Your Computer to Restart Automatically After a Power Failure
Using Third-Party Utilities
Removing Windows from Your Computer
Troubleshooting
Learning More, Support, and Feedback
Download: Boot Camp Installation & Setup Guide