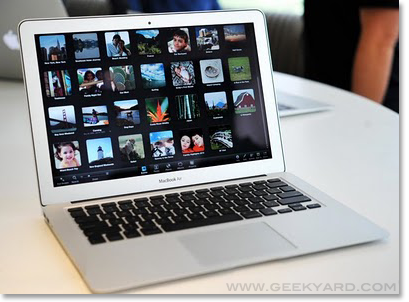 Apple is always stylish and provides best product to its end users. MacBook Air (11-inch) is Apple's smallest and thinnest laptop. 🙂 MacBook Air achieved a Gold rating from EPEAT in the U.S., Canada, France, Germany, and the UK. But many feel that its highly expensive since it has got some cons. Price starting at $999 ($1,199 as configured). I am using MacBook Pro 15″ and its awesome 😉
Also read: 3 Great Alternatives to Apple' MacBook Air
Pros
Thin, Lightweight , Full size keyboard, Sharp, vibrant 11.6-inch widescreen. SSD is durable and quick. Good graphics chip included. Runs cool.
Cons
No SD Card slot, No Ethernet, No backlit keyboard, Sluggish compared with its peers, Unimpressive battery life, Overpriced.
Specifications
Type: General Purpose, Media, Ultraportable, Business
Processor Name: Intel Core 2 Duo SU9400
Operating System: Mac OS X 10.6
Processor Speed: 1.4 GHz
RAM: 2 GB
Weight: 2.3 lb
Screen Size: 11.6 inches
Screen Size Type: widescreen
Graphics Card: nVidia GeForce 320M
MacBook Air is designed with the following features to reduce its environmental impact:
Highly recyclable aluminum enclosure
Mercury-free LED-backlit display
Arsenic-free glass
BFR-free
PVC-free6
Meets ENERGY STAR requirements
Rated EPEAT Gold7
Included software
Mac OS X Snow Leopard includes iTunes, Time Machine, Quick Look, Spaces, Spotlight, Dashboard, Mail, iChat, Safari, Address Book, QuickTime, iCal, DVD Player, Photo Booth, Front Row, and more.
Some Popular Sites Review:
Wired
Don't call the MacBook Air a netbook: Steve Jobs will slice you with it, ninja-Frisbee style. Assault by turtleneck-loving CEOs aside, the new Air is designed to hang in the category of cheap, low-power consuming netbooks. But can it justify its thousand-dollar price tag? Not really
Digitaltrends
Apple has incorporated elements from the iPad into the paper-thin 11.6-inch MacBook Air, its smallest notebook ever.
LAPTOP magazine
There's one easy way to sum up the new 11-inch MacBook Air: It's always ready to go. Not only does this notebook weigh a mere 2.3 pounds and boast a razor-thin profile, its use of flash memory means you'll never have to wait to start surfing the web, touching up photos, or making FaceTime calls. Starting at $999 ($1,199 as configured), the 11-inch Air features a Core 2 Duo processor, Nvidia graphics, and more than 5 hours of battery life.
What you think about this new product? 🙂 Is it worth buying?
Mac user checkout the Mac Tip & Tricks, Mac Tutorials. 🙂