How to uninstall installed softwares in Mac OS X? Is there any Uninstaller utility available for Mac? You can easily uninstall any application in Mac by using AppCleaner. 🙂
What is Appcleaner?
AppCleaner is a small freeware application which allows you to thoroughly uninstall unwanted apps.
Just download and install AppCleaner.
Open AppCleaner and drag and drop the application you wish to uninstall. It will find for the related files,here I am removing VLC player.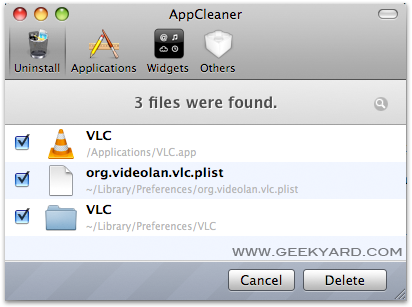 Click delete button.That's it 🙂 You're done
Key Features of "AppCleaner":
1. Easy to Use
2. SmartDelete
AppCleaner is extremely easy to use with its drag and drop interface.
It will offer to delete an app properly when you move it to trash.
3. Protect your favorites apps
4. History Log
Prevent your favorite apps from being deleted accidentally.
All the files deleted are stored in a history.
Download: AppCleaner
Find interesting Mac articles here – Latest Mac Tips & Tricks