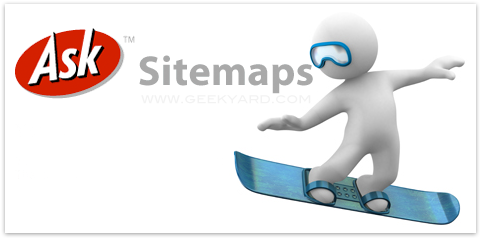 Webmasters toil day and night on finding ways to increase web traffic. And they do lots of SEO(Search Engine Optimization) on optimizing their sites for the top search engines like Google, Yahoo and Bing. Ask.com also can contribute some traffic so its highly essential submit your website Sitemap to Ask.com.
Sitemaps are a way to tell Search engines about pages on your site that might not otherwise discovered by search engines.Ask.com does not have a webmaster center as Google Webmaster or Bing Webmaster, but they will accept the XML sitemap submissions. If you don't know what is a Sitemap and how to generate a Sitemap for your site. Read this article first, Google XML Sitemaps Generator for WordPress Blog 
How to Submit Sitemap to Ask.com?
Ask.com supports the open-format Sitemaps protocol. Once you have prepared the sitemap, add the sitemap auto-discovery directive to robots.txt
1. Just use this link,
http://submissions.ask.com/ping?sitemap=http://yoursite.com/sitemap.xml
Example: I have added,
http://submissions.ask.com/ping?sitemap=http://www.geekyard.com/sitemap.xml to ask.com.
2. That's it. You will get a message,
"Your Sitemap submission was successful
Your Sitemap has been successfully received and added to our Sitemap queue.
Thank you for your submission!"
Read articles on Adsense | Traffic Boosting Steps | Blogging Hacks | SEO Tips & Tricks
Start driving more traffic from Ask.com search engine 😉