In this post I will show you how to display US dollar format to Indian currency format in Microsoft Excel. i.e Comma separator for custom Currency (Indian Rupee). The numbers are generally grouped in US format as shown below,
US Dollar Format Grouping: 86,987,324.00
Indian Rupees Format Grouping: 8,69,87,324.00
Steps to Show Indian Currency Format in Excel
Goto the Control panel and select the "Region and Language" button
Select "Additional Settings"
Set digit groupings to the Indian grouping as shown below,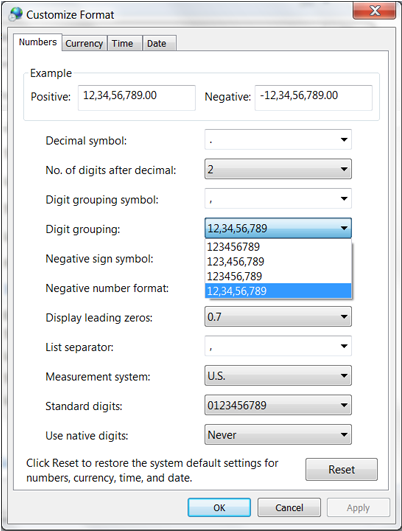 Do the same on the "Currency Tab" and Apply.
Now in Excel the Default "," and "$" Style will show the way you wanted.
That's it 🙂 Excel currency format and comma separator problem is fixed.