How can I set the default Video Player for video is to VLC player? In my Mac OS X, Quicktime is the default Video Player. Each and every video I need to manually set VLC as Video Player. Are you facing the above mentioned problem? If so, here is the solution to fix this problem.
3 Important Articles Related to VLC Player
Setting Default Media Player in Mac
Right click on the file you wish to always open in VLC.
Click "Get Info".
In the "Open With" section, select VLC from the drop down menu. In the below screenshot "The Bourne Legacy" movie with *.mp4 file format's default media player is changed.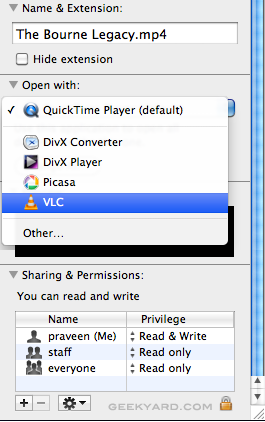 To apply this change to all files of this type, click the 'Change All' button.
That's it 🙂