Here is a simple trick which u can show off to your friends and others that having a browser in your name itself. I am going to discuss a trick about how to rename the Microsoft Internet Explorer Browser to your name or any other name as u wish when u open it. Whenwe open a Internet Explorer we can see Microsoft Internet Explorer after the site name we opened.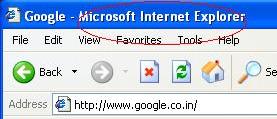 The above picture depicts that Microsoft Internet Explorer is displayed when we open the Internet Explorer.
Here is the step by step procedure to Rename
1. Open Start –> Run and type regedit and press Enter to open registry Editor.
2. Then Locate HKEY_CURRENT_USER\Software\Microsoft\Internet Explorer\Main
3. Create a new String called Window Title on the right hand side.

4. Then Enter any name in the Data Value as u wish. For instance I have Entered my name in the Data Value.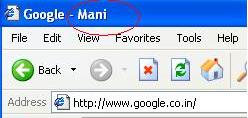 Now u can see that Instead of Microsoft Internet Explorer my name is displayed.
Though its a old trick it will be useful for newbies.