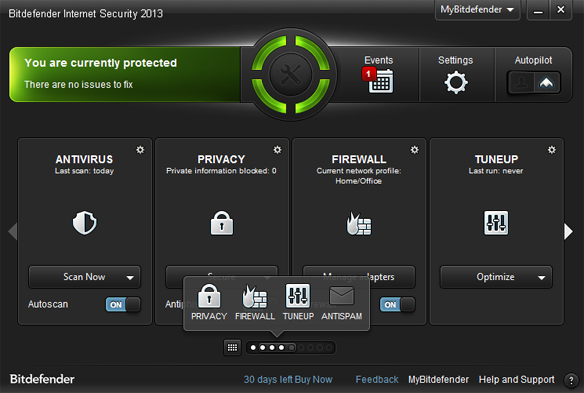 Your computer is left exposed to viruses, malicious programs, network attacks and what nots. True, Bitdefender Antivirus software has proven itself irreplaceable due to its effectivity and performance efficiency, taking only a small amount of computer resources while running protection. There is no doubt that this is one of the best antivirus software which is used by millions across the Globe. 🙂
One can manually update the Bitdefender Virus Definition database offline using weekly.exe application. Please note that this will update only the Virus definition and not the product updates. If you wish to install product updates, just connect to the internet and proceed for updation.
Follow the below steps to update Bitdefender using Weekly.exe:
Download this file (for 32bit operating systems) or this file (for 64bit operating systems) and save it locally on your hard disk.
Open the downloaded file to start the setup wizard.
Click Next to begin the installation process.
Check I accept the terms in the License Agreement and click Next.
Click Install.
Click Finish to close the installation wizard.
Checkout the below video for better understanding,

Cool Features of "Bitdefender 2013"
MyBitdefender dashboard: This is one of the cool feature of Bitdefender :). You can see all the status and licensing information about your software and services in your own MyBitdefender dashboard.
Security Widget: Enables you to keep track of all of your security-related tasks, plus lets you quickly and easily drag-and-drop files for quick scanning for viruses – right from your desktop!
Shop and bank confidently: Bitdefender Safepay™ safeguards your payments and also automatically fills in your account information.
Stops Irritating Popups: Bitdefender Autopilot™ provides a hassle-free experience by making optimal security-related decisions with no input from you. This means no pop-ups, no alerts, nothing to configure.
Two-way Firewall
: The two-way firewall continuously monitors your Internet connections and prevents unauthorized access, even over a Wi-Fi network.
Active Virus Control
: It's a proactive, dynamic detection technology. It monitors processes' behavior in real time, as they are running, and tags suspicious activities.
Rescue Mode: If e-threats, such as rootkits, cannot be removed from within the Windows operating system, the computer is re-booted in Rescue mode — a trusted environment which is then used for cleanup and restoration.
Remote Management: Remotely scan and fix security issues on all of your Bitdefender-protected devices from anywhere, using MyBitdefender.
USB Immunizer
: Immunizes any Flash Drive from viruses when they're connected to your computer so you never worry again about USBs infecting you or your friends.
What's Good & Bad About Bitdefender?
Let's now see few Pros and Cons about this product 🙂
Pros:
Reliable protection against new and emerging online virus threats
Automatically warns you about suspicious websites.
Protects your privacy on social networking sites.
Provides the Safepay feature to ensure that your financial information is kept safe online
Cons:
Scans and cleanup may take long but gets the job done.
Stay Protected with Bitdefender 🙂