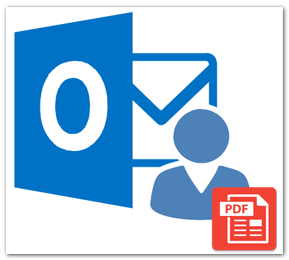 Do you want to hand out all your contact of the joined email contact list? This is a great way to give them an idea & trick to export their contact as a PDF file.
Introduction:
PDF file format is the most secured format to save our information to protect it. Contacts in PDF file format can also be used for maintaining a record or used to present an evidence in cyber crimes. You can convert your contacts to a PDF form and to print it in a paper form.
For converting the email contacts into a PDF form, we can do it by two method:
Using Gmail and Google drive. (Read: 5 uses of Gmail other than Emailing & Gmail Keyboard Shortcuts)
Using Gmail and Google drive
The following steps discuss about the manual method to convert the contacts in PDF format. But having a Gmail account is conditional for the below steps:
Exporting the Contacts from Gmail to the local Hard Drive:
Log-in to your Gmail account.
Click on Gmail at the top-left corner of the Gmail page.
Then choose Contacts.
The newer version would prompt for an option for the Older version. Go to the older version of google contacts.
Select Export from the More actions drop-down menu.
Choose Export all to extract all the contacts from the contact list.
The recommended file format to back up the Gmail Contacts is Google CSV. So select Google CSV to back up your contacts. It is used for transferring the contacts between Google accounts.
Now click on Export to extract the file in CSV format.
Select Save to Disk and click on OK
Select the File location where the file have to be save, and click OK.
Importing the Contacts from Desktop to Google Drive and converting it in PDF:
As you are already Log-in to your Gmail account. So open Google Drive this time.
Drag & Drop the CSV file in the Google Drive account.
Now Right Click on the CSV file and open it with Google Sheets.
Go to File
Go to Download as in File menu.
Select PDF document (.pdf) and download the file.
Using Microsoft Outlook and SysTools PST Converter
The above procedure is very lengthy and need technical expertise to export the file. If your Email account is configure and synced with the Microsoft Outlook, then it is very easy to export Contacts in PDF form. The complete procedure has discussed below. If you have many duplicate contacts then read removing duplicate contacts from Outlook.
Exporting Contacts from Microsoft Outlook PST file to PDF format:
1) Open SysTools PST Converter
2) Click on Add File located as shown in the figure: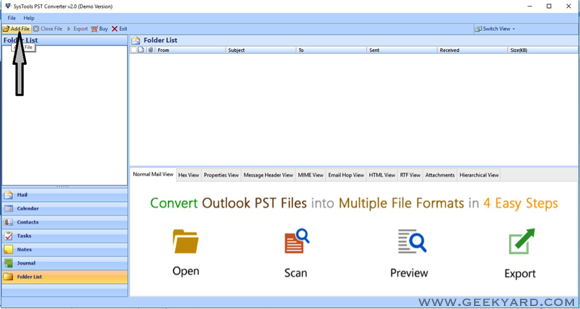 3) Add the PST file from the file location.
Note: The default file location of the PST file is :
"C:\Users\user\AppData\Local\Microsoft\Outlook\username.pst" 

4) It will scan the file and extract the PST file in it's interface.
5) Click on Contact on the bottom-left panel of the user interface screen.
6) Now select the Contact folder from the PST file located on the upper left panel.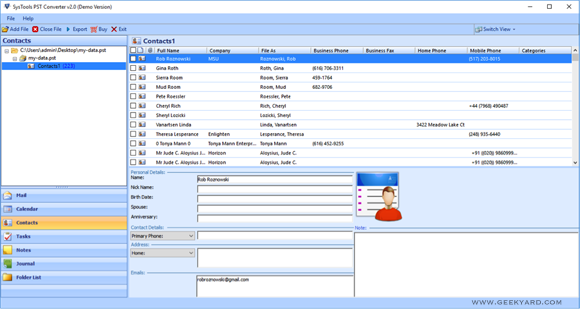 7) Now click on Export, It will open Export Options window.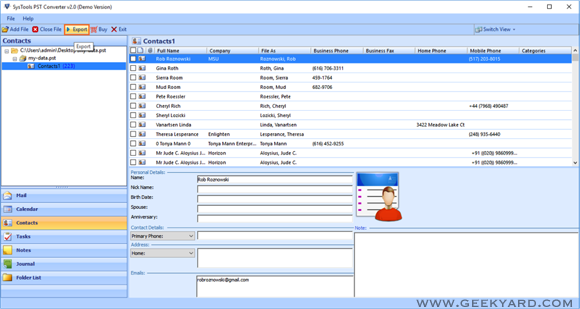 8) Now click on Browse to export the file to it's destination.
9) Select the Contact folder, and click on Export.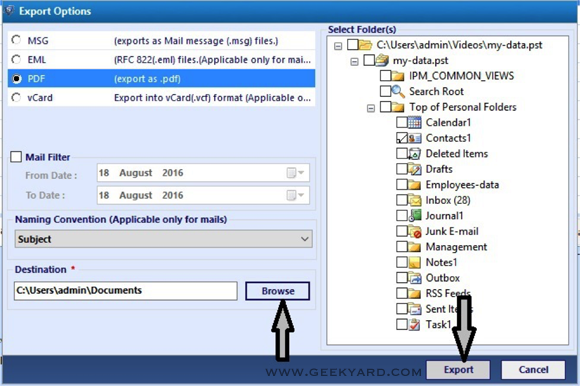 10).All the contacts will extract in PDF format as shown below.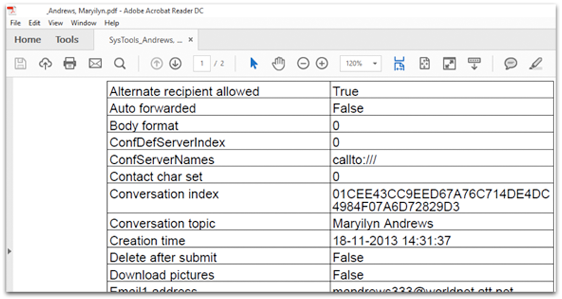 Key Features of "PST Converter":
Following are the features of PST Converter:
Supports to save Outlook items in 4 different format: EML / MSG / PDF & vCard (.vcf).
Batch convert Outlook items, i.e saving it into several file formats
Convert Outlook PST in EML, MSG, PDF & vCard
Extract all the PST contact as vCard
Option to save only selected scanned PST file folder
Convert corrupted and password protected file
Multiple file naming convention, i.e. naming pattern can be changed to different formats. By default it is mail subject, but it can change to Subject +Date (DD-MM-YY), Date (MM-DD-YYYY) + Subject + from, etc.
Email filter for selected date.
User friendly user interface similar to MS Outlook.
How much does it cost?
The Demo version of the tool is completely free but supports only 25 contact to export at a time. Whereas the licensed version price only $49 and can convert the contacts without any limitation.
Download link: https://www.systoolsgroup.com/pst-converter.html 
SysTools provides lots of useful software and PDF Unlocker Tool: To Unlock a Secured PDF is one among them.
Conclusion:
Any of the above process is adopted to convert contacts in Portable Document format. One my personal point of view proceeding to the first method, i.e. converting contacts into PDF using G-mail & Google drive seems very lengthy & time consuming. It also requires good internet speed and technical expertise. Whereas the other method, i.e. by using PST converter complete process become so simple and easy to export the Contacts as a PDF file. It's feature seems to be very attractive & efficient.
Everyday I have to receive client information and extract the contact information like name, address, contact, title, company name, email address, etc. So using this tool makes the complete process simple & saves my time. The tool doesn't require any internet connectivity while converting the files in PDF format. It only need a PST file stored in the local drive to do the operation. We can also convert Email, Calender, Notes, in PDF as well as EML, MSG, & vCard (.vcf) file format using this tool. So I would say that the tool is worth appreciable & the result is completely reliable and outstanding.