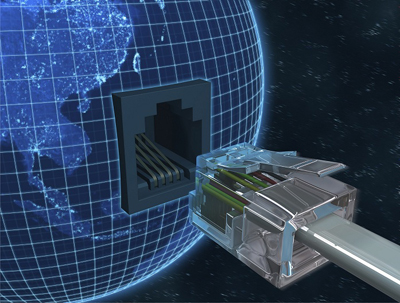 In this post I will be showing how to change your existing BSNL Broadband plan online without going to BSNL telephone exchange office. BSNL has introduced Self care portal for customers. This portal provides the following services,
New Landline/Broadband connection
Change broadband plan online
Change landline plan online
Complaint booking /Complaint status
BSNL landphone shifting
Landline call details/History
View your bills
Broadband usage
Change your broadband password
BSNL bill complaints.
Step-by-Step tutorial to change BSNL Broadband Plan:
Login/Register in the following portal.
http://selfcare.edc.bsnl.co.in/ for Eastern India
http://selfcare.wdc.bsnl.co.in/ for Western India
http://selfcare.ndc.bsnl.co.in/ for Northern India
http://selfcare.sdc.bsnl.co.in/ for Southern India
Click Services on the let top of the page
Now select "Submit a Service Request". Selecting this opens a new service request form.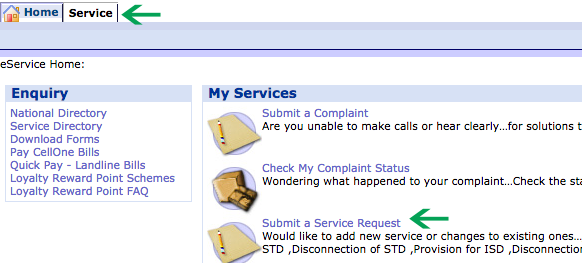 Kindly fill in the form.(First name, Service ID, Customer ID, etc..)
You can find your Customer ID in BSNL telephone bill.

In Request type select "Change of Broadband Plan" and in New Broadband plan select the plan which you wish to have.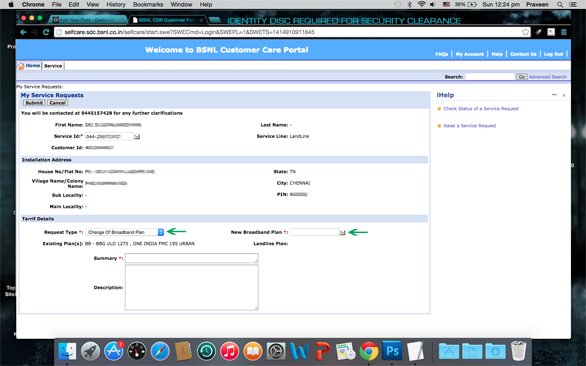 Click Submit button after filling the form.
You will receive a confirmation call from BSNL in 3-4 working days and after your verbal communication only they will change your existing plan.