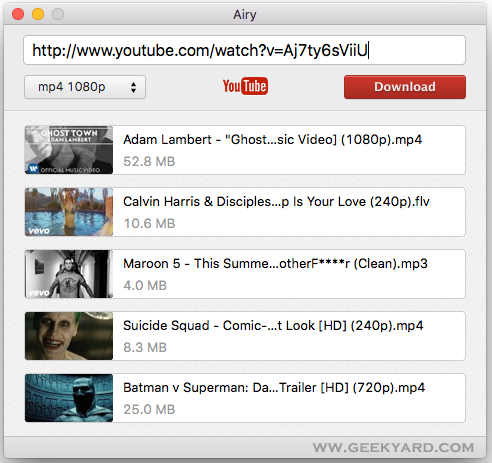 Till recently downloading from YouTube was never heard of before, but nowadays there are so many ways to do it, that it can be overwhelming at times. Multiple applications, browser extensions and web-services – which one to choose? Or, say, you already made your choice a while ago, but now the app you used is not supported anymore or can't cope with the latest YouTube upgrade, or the ads on the web-site you used for downloading have become way too much.
Airy – YouTube downloader for Mac
I have recently zeroed in on the app I am happy with and thought that sharing my experience might save you a bit of time and effort.
Its name is Airy, it is a compact standalone application that does the job of downloading videos from YouTube really well. And the best thing is that it saves you from commercials by simply not downloading them. The way it works is fairly easy, all you have to do is to copy-paste a link to the video in the application and click Download. You can also integrate the app into a web-browser, so next time you open the video's page, click Airy's bookmarklet and the video will start downloading. Safari, Chrome, Firefox and Opera are supported.
During the download a progress bar displays the size of the file and estimated download time so you can keep an eye on what is happening. Once the download is complete, the video is displayed in the downloads list, double click on its title to 'Show in Finder'.
Another helpful thing is that you can choose a resolution and format of download – FLV, MP4, 3GP; a tip – choosing MP3 format in the list will extract a soundtrack from the video.
The application is truly minimalistic, there isn't even preferences a panel to configure.
Give Airy a try – there is a way to do it without paying upfront. Get a demo version that allows downloading 2 videos. Check it out for yourself and if you decide to go for it – the app is available for purchase for $19.95 from the official site.
Those who have Windows machines may want to check Windows version of the app – it is compatible with Windows XP and later versions.
Update, you can also try Online Video Downloader. It supports downloading YouTube videos and other 100+ video sources, like Facebook, Vimeo, etc. With Online Video Downloader, you can transfer your favorite videos from computer to iPhone and iPad, enjoy them wherever you go.