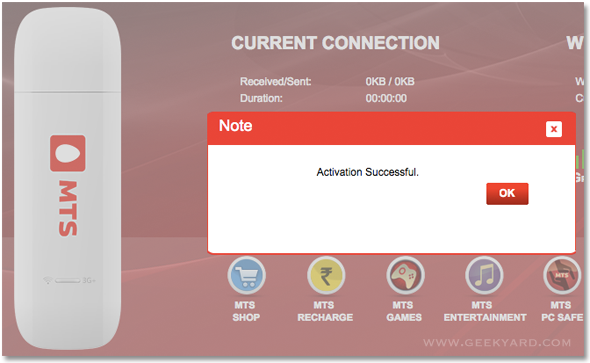 Install and Activate MTS MBlaze
Bought MTS MBlaze 3G Postpaid data card and struggling to install and activate it? Don't worry in this article I will help you out. MTS India offers attractive Prepaid, Postpaid and Smart plans. You can view all the latest MTS Wifi dongle plans at http://www.mtsindia.in/wifi/.
The prime reason of using dongle is portability. It can be carried along to any places they go as the mobile network has wide coverage and offer free data roaming on many plans.
If you are using BSNL Broadband checkout: How to Change BSNL Broadband Plan Online?
Installing MTS Wifi Dongle in Your Computer
In order to install and activate MTS MBlaze Wi-Fi dongle for the first time you need to connect it to your computer or laptop. The MTS dongle has got inbuilt installation software which is suitable for Windows, Linux and Mac operating systems. So, you won't be facing any issue for MTS device setup process.
MTS MBlaze Activation Process
Here is the MTS data card activation procedure which takes once few mins to do.
Once the installation procedure is over, default MTS home page will be launched on your web browser.
At the top right corner click "Login".
A login window will pop up asking for login credentials.
Type your username and Password(Note: Default Username: admin ; Default Password: admin)
In the navigation bar click on "Activate MBlaze".
A Pop-up dialog box opens stating "Activation in progress. This may take a few minutes. Do not click or stop the process".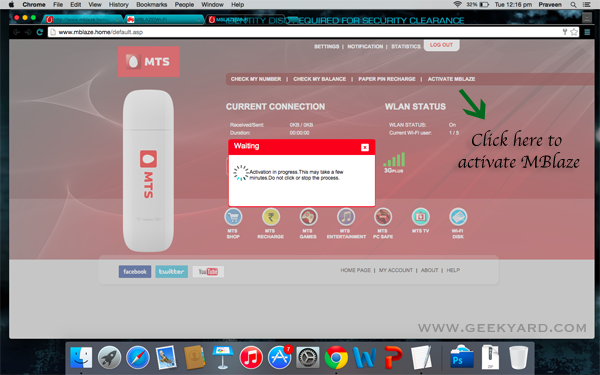 Wait for few minutes after that you will receive a message "Activation Successful".
In case you receive Activation Failed, restart your computer and follow the Activation procedure one more time.
Read:
How to check data card usage of MTS MBlaze Ultra?
How to Change MTS MBlaze Ultra Wifi SSID Network Name?
How to change password of MTS MBlaze Ultra Dongle?
How to Pay MTS Data Card Bill Online?
There are so many cash back offers available if you pay your MTS data card bills through Paytm. I would recommend you to install "Shop Pirate App" in your mobile or tablets. This app contains all Online shopping coupons and deals in one place. I regularly use this app for my post paid mobile bills and data card bill payments.