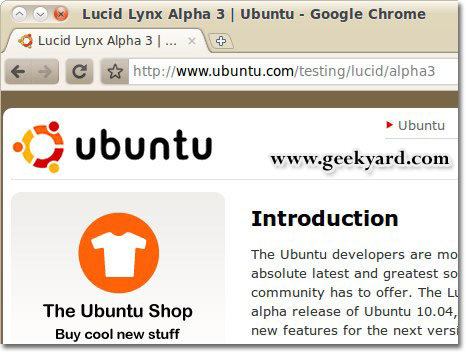 Google Chrome for Linux gets two cool new themes Radiance & Ambiance based on Ubuntu 10.04(LTS).These cool new google chrome themes are avialable in Google's own online gallery.The upcoming Ubuntu 10.04 LTS (Lucid Lynx) operating system got brand new Lightware stylish themes. No more Human theme! The new look will also be applied to Ubuntu's derivatives Kubuntu and Xubuntu.
While there is a continuity with the old look, the new themes are much better looking and of noticeably higher quality. But you don't have to take our word on it.The new Ubuntu theme comes in two flavors, Radiance and Ambiance, and, getting back to Chrome, they both served as inspiration for a couple of new Chrome themes.
Installing them is dead simple, just click on the bright-blue button and that's it, not even a restart required. The best part is that, unlike most user-created Google themes, these two are on par, quality-wise, with everything Google has to offer by itself and almost as good as Ubuntu's own themes. And if you want to complete the look, be sure to also get the Ubuntu light-themes scrollbars extensions from here.

Radiance theme for Google Chrome
Ambiance theme for Google Chrome