By subscribing to RSS feeds one need not visit their favourite sites now and then to read articles or posts.Every new updates will reach them in feeds format.
RSS –
"Really Simple Syndication"
– is a file format that is incorporated by Internet users in their websites to allow for
'web syndication',
making their web content available in a format that can be
universally understood
by other people.Now lets see Subscribing to RSS feeds in
Internet explorer
,
1. Open the site wish you wish to subscribe to RSS feeds.
3. It will take to feeds page.
4. In the yellow text box, click Subscribe to this feed.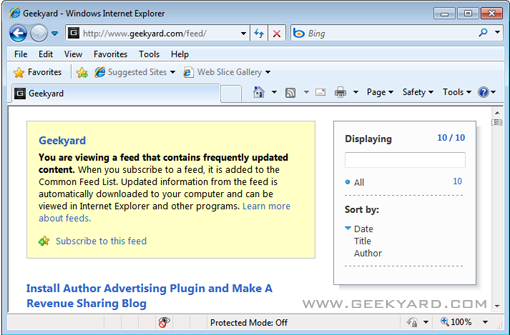 5. In the Internet Explorer dialog, select the folder for the feed. The default folder is Feeds.
6. Click Subscribe.
That's it 🙂
Got Adsense account? What to need Google Adsense to RSS feeds? The checkout
this article
. 😉