How to clear cache, history, cookies, stored usernames and passwords, etc… in Safari web browser? Clearing Cookies and stored data increase your security and privacy 🙂 Lets see how enhance Safari security by clearing all those stored data
1. Open Safari, click Edit –> Reset Safari.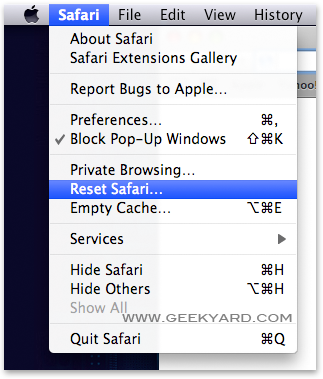 2. You will get a Reset Safari screen. Check the items you wish to reset. You can select:
Clear History
Reset Top Sites
Remove all webpage preview images
Empty the cache
Clear the Downloads window
Remove all cookies
Remove all website icons
Remove saved names and passwords
Removed other AutoFill form text
Close all Safari windows
3. Click Reset when you're done.
That's it 🙂