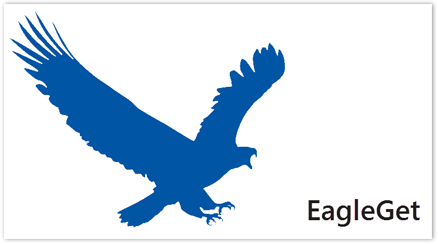 EagleGet is a freeware simple download accelerator for browsers. It is fit especially for beginner users, but more seasoned ones can also use it for faster downloads.EagleGet not only does the app grab clips from Youtube and other online video websites, but it also supports HTTP, HTTPS, MMS and RTSP protocols.
The user interface is clean and intuitive and it appeals to beginners and experts alike. It supports various file formats, such as EXE, ZIP, MP3, MP4, WAV, PDF, AAC, FLAC, OGG and others too.
Key Features of "EagleGet":
Increase Download Speed Greatly: EagleGet uses advanced multi-threaded technology to accelerate downloads by splitting files into several parts and then transferring them simultaneously, thus increase download speed by up to 6 times!
Resume Broken Downloads Easily: System crash, connection lost, power outage… No matter what reason interrupted download process, you can always resume broken downloads with a single click. Our advanced multi-threaded technology saves your time, nerves and money.
Support All Popular Browsers: EagleGet supports all popular browsers including Chrome, Firefox, Opera and IE.Download Audio and HD Videos from ANY Websites: It automatically detects media contents on ANY website. You can download HD videos playing in Chrome, Firefox, Opera or IE, as well as batch download web videos by using the unique ad-free Video Sniffer.
Specially Optimized for HD and HTML5 Online Videos: You can download both common and HTML5 videos from website, grabbing high quality 1080p and 720p HD videos when available. E
Automatic Antivirus Scanning: EagleGet can automatically run an anti-Virus product to perform scan on download completion, like Avira AntiVir, AdAware, Avast, Spybot, AVG Anti-Virus, McAfee, SpywareBlaster, and others to protect you from virus, malware or spyware attacking.
Download: EagleGet 1.1.0.4