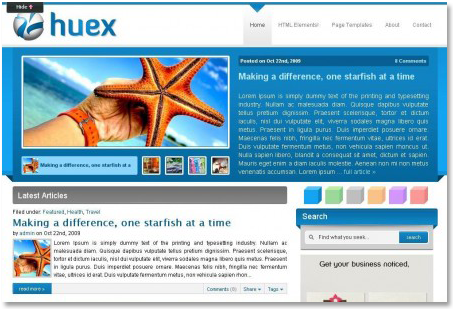 WPNow released a cool Premium WordPress theme "Huex". Huex WordPress template comes with six different color schemes blue, green, gray, orange, purple, and red. Personally I like blue color scheme 🙂 Huex look cool in blue color when compared to other colors 😉 In the live demo check what color schemes suits you best by clicking on a color cube at the top of the right column.
Huex comes with bundles of features like color settings,  featured post, connect with us section, articles, main / page menus, read more articles section, and advertisements. Even if you're a newbie with these kind of things, Huex control panel will really make everything painless. Most of the settings can be set by choosing yes or no, copy and pasting, or selecting radio buttons or check boxes. It's that easy. 🙂 Download this Huex Premium template its perfect template for Technology, Health, Mobile WordPress blogs.
Price Details for "Huex WordPress Template:"
Theme Name: Huex
Theme Provider: WP Now
Price: $49.00
Promotion offer: All WP Now themes NOW only $29!
Features of "Huex Premium WordPress Template":
6 Optional Colors
Widget Ready
Adsense Ready
Multi Dropdown Menus
No Sidebars Template
WP 2.8.5+ Ready
Links & Bookmark Template
Sitemap Template
Featured Video
Subscribe
Flickr Photos
Flash Tags
Nested Comments
Include / Exclude Links
Slideshow W/ 15+ Optional Effects