Yesterday I was customising my friend's newly started  WordPress blog. For that I need Category ID to tweak the template.  I Goggled How To Get Category ID for WordPress Blog? And read few articles regarding it. But I did't get clear Idea of getting Category ID.
I was viewing source code of his Site and to my surprise I found the Category ID. I think this is the simplest method. I would like to share it for Geekyard readers this tip,
1. Just open your WordPress blog homepage.
2. In your browser Click View –>  Page Source ( CTRL+U)
3. A new windows opens with Source code.
4. For example If I need to find Category ID for Linux Category in Geekyard.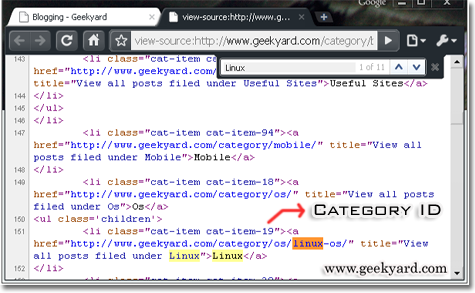 5. Press (CTRL+F) and search that category name(Here I search Linux).
6. Here you can find a code like cat-item-19
Note:
That 19 is my Category ID for Linux.
I hope this article is helpful for blog users faced problem like me. 🙂